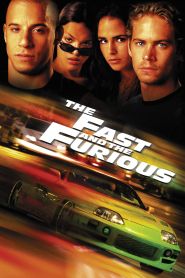 General Information
Glossary: T
Released Year: 2001
Runtime: 106 minutes
Genre: Action, Crime, Thriller
Directors: Rob Cohen
Casts: Noel Gugliemi, Vin Diesel, Michelle Rodriguez, Jordana Brewster, Paul Walker, Vyto Ruginis, Neal H. Moritz, Matt Schulze, Rick Yune, Thom Barry, Reggie Lee, Chad Lindberg, Johnny Strong, Ted Levine, Ja Rule, Stanton Rutledge, RJ de Vera, Beau Holden, David Douglas, Peter Navy Tuiasosopo, F. Valentino Morales, Rob Cohen, Kevin Smith, Doria Clare Anselmo, Glenn K. Ota, Mike White, Delphine Pacific, Monica Tamayo, Megan Baker, Tammy Monica Gegamian
IMDB: The Fast and the Furious (2001)
Sponsored Links
Ratings
User Rating:
IMDB Rating:
6.7
Reviews
Wall Street Journal

-

Shrewdly conceived, confidently executed and outrageously entertaining.

Los Angeles Times

-

The result is an intensely involving entertainment that can be enjoyed by viewers who scarcely know how their own cars work.

Washington Post

-

Along with the cast's charm, they provide enough fuel for a fun one (movie).

San Francisco Chronicle

-

Something special about it. It's a formula movie, to be sure, but it's Formula One.

Chicago Sun-Times

-

Not a great movie, but it delivers what it promises to deliver, and knows that a chase scene is supposed to be about something more than special effects.
The Fast and the Furious (2001)
Domenic Toretto is a Los Angeles street racer suspected of masterminding a series of big-rig hijackings. When undercover cop Brian O'Conner infiltrates Toretto's iconoclastic crew, he falls for Toretto's sister and must choose a side: the gang or the LAPD.