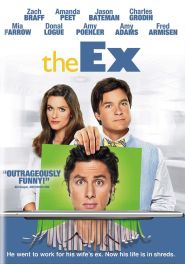 General Information
Glossary: T
Released Year: 2006
Runtime: 90 minutes
Genre: Comedy, Romance
Directors: Jesse Peretz
Writers: David Guion, Michael Handelman
Casts: Jason Bateman, Paul Rudd, Donal Logue, Marin Hinkle, Amy Poehler, Amy Adams, Josh Charles, Fred Armisen, Lauren Weedman, Amanda Peet, Charles Grodin, Michael Cumpsty, Sheila K. Adams, Zach Braff, Mia Farrow
IMDB: The Ex (2006)
Sponsored Links
Ratings
User Rating:
IMDB Rating:
5.5
Reviews
Village Voice

-

The movie is Bateman's to steal, however, which he does early and often.

Chicago Tribune

-

If you want a relationship comedy that feels like last year's stuff, doesn't go far enough in any direction and is made watchable only by an overqualified ensemble, there's The Ex.

ReelViews

-

The movie is populated by dislikeable individuals doing unpleasant things but isn't redeemed by the vein of viciously black comedy that made "The War of the Roses" and "Bad Santa" such devilish pleasures.

The New York Times

-

The best jokes in this scattershot screwball satire of job insecurity, upward mobility, political correctness and yuppie marital tensions have claws that leave scratches.

Seattle Post-Intelligencer

-

The resulting hodgepodge has the feel of filmmaking by committee, the look of last-minute reshoots and the whiff of desperation. Not even Braff's cartoonish smirk is distracting enough to hide that.
The Ex (2006)
When his lawyer wife, Sofia, becomes pregnant, chronic underachiever Tom Reilly must take a job at his father-in-law's advertising firm. Tom has to adjust to the demands of a very high-powered job, and he finds himself in an increasingly hostile office rivalry with Chip, Sofia's paraplegic former lover.