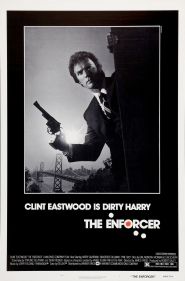 General Information
Glossary: T
Released Year: 1976
Runtime: 96 minutes
Genre: Action, Crime, Thriller
Directors: James Fargo
Casts: Clint Eastwood, Rudy Ramos, Bill Ackridge, Bradford Dillman, Albert Popwell, John Mitchum, Tyne Daly, John Crawford, DeVeren Bookwalter, Harry Guardino, Samantha Doane, Robert F. Hoy, Jocelyn Jones, M.G. Kelly, Nick Pellegrino
IMDB: The Enforcer (1976)
Sponsored Links
Ratings
User Rating:
IMDB Rating:
6.8
Reviews
Film Threat

-

This is a good move because while I and many others believe in civil liberties, no one likes a cop who goes by the book. Besides, Harry seems to have realized that if you kill the criminals then you never have to bother with prosecuting them. It's only when people live that Harry gets hassled.

Chicago Sun-Times

-

The Enforcer is the best of the Dirty Harry movies at striking a balance between the action and the humor. Sometimes in the previous films we felt uneasy laughing in between the bloodshed, but this time the movie's more thoughtfully constructed and paced.

Empire

-

Same old sequel squanderings.

The New York Times

-

The action is reasonably fast and competently photographed. The picture doesn't exactly drag. But it is maggoty with non‐ideas.

Variety

-

The spitball script [from a story by Gail Morgan Hickman and S.W. Schurr] lurches along, stopping periodically for the blood-lettings and assorted running and jumping and chasing stuff.
The Enforcer (1976)
Dirty Harry Callahan returns again, this time saddled with a rookie female partner. Together, they must stop a terrorist group consisting of angry Vietnam veterans.