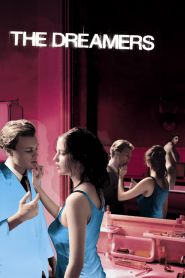 General Information
Glossary: T
Released Year: 2003
Runtime: 115 minutes
Genre: Drama, Romance
Directors: Bernardo Bertolucci
Writers: Gilbert Adair
Casts: Eva Green, Michael Pitt, Anna Chancellor, Louis Garrel, Robin Renucci, Jean-Pierre Kalfon, Jean-Pierre Léaud, Florian Cadiou, Pierre Hancisse, Valentin Merlet, Lola Peploe, Ingy Fillion
IMDB: The Dreamers (2003)
Sponsored Links
Ratings
User Rating:
IMDB Rating:
7.2
Reviews
Rolling Stone

-

The Dreamers may go slack when you most want it to soar, but it also seduces with eroticism and resonates with ideas.

The A.V. Club

-

The Dreamers is a universal story, one that captures the thrill of discovering culture, sex, and politics, and the painful twinge of learning that those worlds aren't enough.

New York Magazine (Vulture)

-

He doesn't entirely succeed, but the attempt has poignancy: As uneven as much of his recent work has been, Bertolucci's still in love with the movies, and his ardor--if not always the ends he puts it to--is exhilarating.

Film Threat

-

It wasn't as good as the films it cites, but at least it didn't bore me.

The Hollywood Reporter

-

The film's real failure is that neither the story nor the characters capture the zeitgeist that Bertolucci theoretically set out to celebrate.
The Dreamers (2003)
A young American studying in Paris in 1968 strikes up a friendship with a French brother and sister. Set against the background of the '68 Paris student riots.