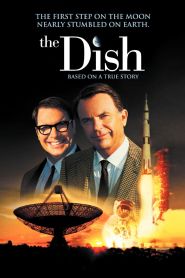 General Information
Glossary: T
Released Year: 2000
Runtime: 101 minutes
Genre: Comedy, Drama, History
Directors: Rob Sitch
Casts: Patrick Warburton, Bille Brown, Beverley Dunn, Sam Neill, Roy Billing, John McMartin, Roz Hammond, Kevin Harrington, Tom Long, Eliza Szonert, Tayler Kane, Genevieve Mooy, Carl Snell, Lenka Kripac, Matthew Moore, Christopher-Robin Street, Luke Keltie, Naomi Wright, Ben Wright-Smith, Bernard Curry, Billy Mitchell, Grant Thompson
IMDB: The Dish (2000) - IMDB
Sponsored Links
Ratings
User Rating:
IMDB Rating:
7.2
Reviews
Chicago Sun-Times

-

It placed second for the People's Choice Award at the 2000 Toronto Film Festival--after "Crouching Tiger, Hidden Dragon." That's about right.

Chicago Tribune

-

The kind of movie some audiences are starved for, a comedy with a human face, warmth and spirit.

Portland Oregonian

-

Appropriate music, lovely cinematography and stellar performances by both a subtly moving Neill and a likable, barrel-chested super-American Warburton.

Wall Street Journal

-

Apollo 11's mission was a singular chapter in the story of mankind; The Dish finds a whimsical, winning way of telling it anew.

New York Daily News

-

For all its folksy jocularity, the movie inspires a sense of global patriotism. In the big picture, every little dish counts.
The Dish (2000)
The true story of how the Parkes Radio Telescope was used to relay the live television of man's first steps on the moon, during the Apollo 11 mission in 1969.