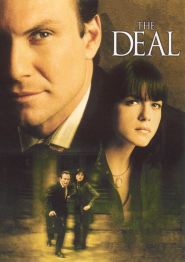 General Information
Glossary: T
Released Year: 2005
Runtime: 107 minutes
Genre: Crime, Drama, Thriller
Directors: Harvey Kahn
Casts: Christian Slater, Colm Feore, Mike Dopud, Robert Loggia, Françoise Yip, Jennifer Clement, John Heard, Angie Harmon, Selma Blair, Kevin Tighe, Philip Granger, Paul McGillion, Jim Thorburn, Christine Lippa, Vyacheslav Vinnik, Peter Hall, Jay Robert Inslee, Linda Darlow, Frida Betrani, Tony Alcantar
IMDB: The Deal (2005)
Sponsored Links
Ratings
User Rating:
IMDB Rating:
5.0
Reviews
The Hollywood Reporter

-

Christian Slater and Selma Blair head a solid cast that Harvey Kahn directs with cool efficiency as the tension steadily rises with every passing minute.

L.A. Weekly

-

Although the dialogue initially flakes with awkward exposition, writer Ruth Epstein and director Harvey Kahn have fashioned a riveting thriller full of good scares and learned, muckraking insight into the global labyrinth of oil and politics.

Variety

-

Never entirely convincing yet always watchable.

The New York Times

-

It's when The Deal leaves the corporate offices behind that the story turns into a bogus, convoluted mess. Once the Russian mafia, personified by Angie Harmon playing an evil seductress with a terrible Russian accent, rears its head, the ballgame is over.

The A.V. Club

-

If Epstein and Kahn's plot mechanics were as fresh as the headlines from which they borrow, they might have been on to something.
The Deal (2005)
A political thriller steeped in illegal oil trading, the Russian Mafia, and governmental cover-ups.