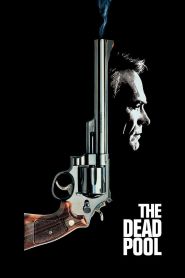 General Information
Glossary: T
Released Year: 1988
Runtime: 91 minutes
Genre: Action, Crime, Mystery, Thriller
Directors: Buddy Van Horn
Writers: Duke Pearson, Sandy Shaw
Casts: Clint Eastwood, Liam Neeson, Patricia Clarkson, Jim Carrey, Michael Goodwin, David Hunt, Justin Whalin, Michael Currie, Evan C. Kim, Darwin Gillett, Christopher P. Beale, John Allen Vick, Jeff Richmond, Patrick N. Van Horn, Sigrid Wurschmidt, Anthony Charnota
IMDB: The Dead Pool (1988)
Sponsored Links
Ratings
User Rating:
IMDB Rating:
6.3
Reviews
Chicago Sun-Times

-

The film is smart, quick, and made with real wit. It's never just a crude action movie, bludgeoning us with violence. It's self-aware, it knows who Dirty Harry is and how we react to him, and it has fun with its intelligence. Also, of course, it bludgeons us with violence.

Chicago Tribune

-

Where the previous sequels have been mostly dour gun blasts, The Dead Pool is a thriller with wit and humor and tension. [15 Jul 1988, p.A]

Variety

-

The Dead Pool isn't the best and brightest of the Dirty Harry films, either, but just as invincible. It's possible that Clint Eastwood and crew are just enjoying a bit of self-mockery with this one.

Chicago Reader

-

An episodic thriller that certainly has its moments, but eventually peters out into dull formula standbys; Eastwood's Harry seems weary of his own sarcastic witticisms, and the ones here won't make anybody's day.

TV Guide Magazine

-

Fifth entry in the "Dirty Harry" series, a definite step backwards from the fascinating and ultimately disturbing progression of Eastwood's character in Sudden Impact.
The Dead Pool (1988)
Dirty Harry Callahan returns for his final film adventure. Together with his partner Al Quan, he must investigate the systematic murder of actors and musicians. By the time Harry learns that the murders are a part of a sick game to predict the deaths of celebrities before they happen, it may be too late...