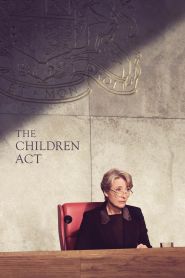 General Information
Glossary: T
Released Year: 2018
Runtime: 105 minutes
Genre: Drama
Directors: Richard Eyre
Writers: Ian McEwan
Casts: Rupert Vansittart, Emma Thompson, Stanley Tucci, Jason Watkins, Ben Chaplin, Nikki Amuka-Bird, Wendy Nottingham, Eileen Walsh, Anthony Calf, Fionn Whitehead
IMDB: The Children Act (2017)
Sponsored Links
Ratings
User Rating:
IMDB Rating:
6.7
Reviews
Screen International

-

The Children Act is a cerebral piece, for sure, and a disturbing one by the end, but Thompson's performance brings life to the complex moral questions it attempts to examine.

Variety

-

The Children Act is that rarest of things: an adult drama, written and interpreted with a sensitivity to mature human concerns.

CineVue

-

The Children Act brilliantly recreates the measured mind and language of a judge. But McEwan and Eyre are also interested in conveying the tumultuous emotional currents that operate below the surface in a person – often unrecognised until it is too late.

IndieWire

-

No matter how iffy the story gets, or how clinical Eyre's direction becomes, Thompson makes it absolutely heartrending to watch Fiona's veneer crack one line at a time.

Entertainment Weekly

-

Even the cast's uniform excellence can't quite crack Children's outer carapace, or bring full life to Fiona's emotional struggle as she's forced to confront her own failings. Instead the story drifts iceberg-like toward its carefully muted conclusion, only a small part of its true scope visible above a beautiful, chilly surface.
The Children Act (2017)
In the midst of a marital crisis, a High Court judge must decide if she should order a life-saving blood transfusion for a teen with cancer despite his family's refusal to accept medical treatment for religious reasons.