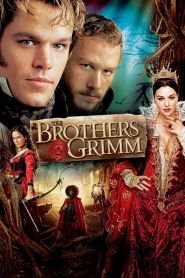 General Information
Glossary: T
Released Year: 2005
Runtime: 118 minutes
Genre: Action, Adventure, Comedy, Fantasy, Thriller
Directors: Terry Gilliam
Casts: Mackenzie Crook, Matt Damon, Lena Headey, Peter Stormare, Richard Ridings, Heath Ledger, Roger Ashton-Griffiths, Jonathan Pryce, Monica Bellucci, Barbora Lukesová, Petr Ratimec, Anna Rust, Jeremy Robson, Radim Kalvoda, Martin Hofmann, Josef Pepa Nos, Harry Gilliam, Miroslav Táborský, Marika Procházková, Tomáš Hanák, Martin Kavan
IMDB: The Brothers Grimm (2005)
Sponsored Links
Ratings
User Rating:
IMDB Rating:
5.9
Reviews
Christian Science Monitor

-

Gilliam has rarely been more inventive, energetic, or just plain funny.

Village Voice

-

Just as fabulously cartoon-Gothic as "Sleepy Hollow."

Rolling Stone

-

If you're a Gilliam junkie, as I am, you go with it, even when the script by Ehren Kruger (The Skeleton Key) loses its shaky hold on coherence.

Premiere

-

In the end it's still Gilliam Lite, but Gilliam Lite is better than no Gilliam at all.

The Hollywood Reporter

-

Hugely ambitious but often failing to live up to those ambitions, Terry Gilliam's long-awaited The Brothers Grimm emerges as a folkloric adventure that intermittently entertains.
The Brothers Grimm (2005)
Folklore collectors and con artists, Jake and Will Grimm, travel from village to village pretending to protect townsfolk from enchanted creatures and performing exorcisms. However, they are put to the test when they encounter a real magical curse in a haunted forest with real magical beings, requiring genuine courage.