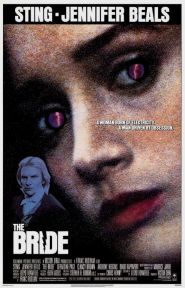 General Information
Glossary: T
Released Year: 1985
Runtime: 114 minutes
Genre: Drama, Horror, Romance
Directors: Franc Roddam
Casts: Cary Elwes, Jennifer Beals, Clancy Brown, Timothy Spall, Veruschka von Lehndorff, Anthony Higgins, Ken Campbell, Phil Daniels, Alexei Sayle, Sting, Tony Haygarth, Quentin Crisp, Gary Shail, John Sharp, Janine Duvitski, David Rappaport, Andy de la Tour, Geraldine Page, Guy Rolfe, Jack Birkett
IMDB: The Bride (1985)
Sponsored Links
Ratings
User Rating:
IMDB Rating:
5.3
Reviews
TV Guide Magazine

-

THE BRIDE must be commended for its attempt to tell two parallel stories, but unfortunately the halves do not balance, resulting in a picture in which the lead characters (Sting and Beals) become secondary to the supporting ones (Brown and Rappaport).

Variety

-

While there is deliberate humor at times, most of it successfully produced by a lilting dwarf character who steals the movie (David Rappaport), the intention of the filmmakers is not camp. That's both the pic's virtue and, at the conclusion, its downfall.

Los Angeles Times

-

Unfortunately, for all the admirable respect director Franc Roddam and writer Lloyd Fonvielle (who co-wrote Roddam's "The Lords of Discipline") bring to their extensive reworking of the legend of Frankenstein and his bride, they're over their heads -- waaaaayyy over. The result is a film that commands affection for its ambition and civilized sensibility, but nonetheless provokes unintended laughter. [16 Aug 1985, p.C18]

Miami Herald

-

Truly, a modern fable in period dress...But boring. No other word for it. Director Franc Roddam (The Lords of Discipline, Quadrophenia) is a plodder. He can make dense films, ornate films, but he brings no special life to his projects. Here, he cannot escape the sumptuous confines his art directors have created or the too-rich images of cinematographer Stephen Burum. When the movie needs to race, it lurches instead, like the monster staggering castleward at the head of a torchlight parade.

The Globe and Mail (Toronto)

-

That the producer thinks Beals plus Sting equals big bucks at the box office may be the biggest contrivance of all. [19 Aug 1985]
The Bride (1985)
Sting is Doctor Frankenstein in this remake of the old classic film Bride of Frankenstein. After years of research, the doctor finally succeeds in creating the perfect woman, who gets the name "Eva".