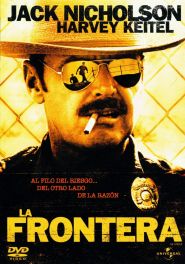 General Information
Glossary: T
Released Year: 1982
Runtime: 108 minutes
Genre: Crime, Drama
Directors: Tony Richardson
Writers: Deric Washburn, Walon Green, David Freeman
Casts: Harvey Keitel, Jack Nicholson, Gary Grubbs, Floyd Levine, Don Charles McGovern, Elpidia Carrillo, Alan Fudge, Warren Oates, Valerie Perrine, Shannon Wilcox, Mike Gomez, Juan Ramírez, William Russ, Lupe Ontiveros, Alan Gibbs, Dirk Blocker, Stacey Pickren, David Beecroft, James Jeter, Lonny Chapman, Jeff Morris, Gary Sexton, Manuel Viescas, Billy Silva, Bill McLaughlin, Esther Sylvey, Luis Mejía, Roberto Rivera, Jay Thurman, Craig Terry, Adalberto Cortez, Concepción Palmeres, Juan Salas, Norma Mayo, Paula Ruiz, Carlos Bruno Villaneuva, Ronne Drummond, Richard Watts, Bernice E. Shamaley, Kenna Espersen, Glenda Meadows, Joe Zizik, Maria Delgado, Francisco Farias, Edmundo Alonzo, Beverly Overstreet
IMDB: The Border (1982)
Sponsored Links
Ratings
User Rating:
IMDB Rating:
6.4
Reviews
Salon

-

Jack Nicholson is at his best playing a burned-out border patrol officer in a small Texas town.

The New Yorker

-

Richardson is able to encompass so much in the widescreen frame that he shows how the whole corrupt mess works.

Slant Magazine

-

The Border is marvelously detailed. The script, by Deric Washburn, Walon Green, David Freeman, is peppered with lively obscenities and slights that communicate the debauched cynicism of this world.

IndieWire

-

The film unravels towards the end, devolving into a too-neat shoot-em-up finale that stinks of studio interference, but Nicholson's performance is a marvel throughout. It's time it got its due.

The Associated Press

-

The Border is a well-made action-adventure film enhanced by authentic settings and a superlative performance by Jack Nicholson. [08 Feb 1982]
The Border (1982)
A corrupted border agent decides to clean up his act when an impoverished woman's baby is put up for sale on the black market.