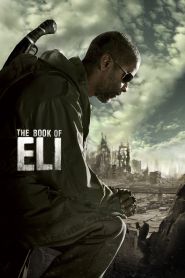 General Information
Glossary: T
Released Year: 2010
Runtime: 118 minutes
Genre: Action, Adventure, Drama, Thriller, Western
Directors: Albert Hughes, Allen Hughes
Writers: Gary Whitta
Casts: Sala Baker, Gary Oldman, Tim Rigby, Darrin Prescott, Mila Kunis, Jennifer Beals, Denzel Washington, Ray Stevenson, Richard Cetrone, Brad Martin, Eddie Perez, Joe Pingue, Malcolm McDowell, Al Goto, John Koyama, David Midthunder, Chris Browning, Scott Wilder, Don Thai Theerathada, Mike Gunther, Evan Jones, Jennifer Caputo, Karin Silvestri, Michael Gambon, Spencer Sano, Frances de la Tour, Edward A. Duran, Lateef Crowder, Todd Schneider, Arron Shiver, Justin Tade, Tom Waits, Clay Donahue Fontenot, Mike Seal, Jermaine Washington, Mike McCarty, Luis Bordonada, Angelique Midthunder, Laurence Chavez, Scott Michael Morgan, Lora Martinez-Cunningham, Heidi Pascoe, David Wald, Thom Williams, Brian Neal Lucero
IMDB: The Book of Eli (2010) - IMDB
Sponsored Links
Ratings
User Rating:
IMDB Rating:
6.9
Reviews
Chicago Sun-Times

-

The film looks and feels good, and Washington's performance is the more uncanny the more we think back over it. The ending is "flawed," as we critics like to say, but it's so magnificently, shamelessly, implausibly flawed that (a) it breaks apart from the movie and has a life of its own, or (b) at least it avoids being predictable.

Arizona Republic

-

Its over-the-top violence is cartoonish at times, menacing at others - which is a good thing. And truly, if one must wander a barren, post-apocalyptic landscape with somebody, who better to wander with than Denzel Washington?

ReelViews

-

The problem with The Book of Eli is that the narrative isn't a match for its sentiments. The script feels like it's an iteration or two short of a final draft.

The Hollywood Reporter

-

The Hughes Brothers' measured, well-paced direction complements the comic-book simplicity of this narrative.

Variety

-

Some mordant comic touches would have been welcome throughout the picture, which has a somber tone that suffers a bit from lack of modulation and nuance.
The Book of Eli (2010)
A post-apocalyptic tale, in which a lone man fights his way across America in order to protect a sacred book that holds the secrets to saving humankind.