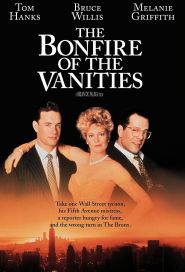 General Information
Glossary: T
Released Year: 1990
Runtime: 125 minutes
Genre: Comedy, Drama
Directors: Brian De Palma
Casts: Kurt Fuller, Tom Hanks, Bruce Willis, Morgan Freeman, Don McManus, Kevin Dunn, F. Murray Abraham, Melanie Griffith, Camryn Manheim, Rita Wilson, Barton Heyman, Novella Nelson, Donald Moffat, Saul Rubinek, Adam LeFevre, Kim Cattrall, Clifton James, Kirsten Dunst, Louis Giambalvo, Alan King, Susan Forristal, Beth Broderick, Andre Gregory, John Hancock, Norman Parker
IMDB: The Bonfire of the Vanities (1990)
Sponsored Links
Ratings
User Rating:
IMDB Rating:
5.6
Reviews
Slant Magazine

-

For all its polish, Bonfire of the Vanities neither sustains the feverish, revolutionary energy nor reaches the visceral peak of Hi, Mom! But as major Hollywood pictures go, it can become stunningly hot-tempered, a quality most journalists are too quick to ignore.

Chicago Sun-Times

-

The beauty of the Wolfe book was the way it saw through its time and place, dissecting motives and reading minds. The movie sees much, but it doesn't see through.

Time Out

-

What De Palma delivers is merely a mediocre yuppy nightmare movie, stylistically flashy but with little pace, bite or pathos.

The A.V. Club

-

The Bonfire Of The Vanities gets a lot of things right but they're largely negated by the colossal things it gets wrong.

Empire

-

A spectacular misfire from a director who should have known better.
The Bonfire of the Vanities (1990)
After his mistress runs over a young teen, a Wall Street hotshot sees his life unravel in the spotlight, and attracting the interest of a down and out reporter.