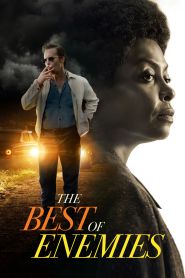 General Information
Glossary: T
Released Year: 2019
Runtime: 133 minutes
Genre: Drama, History
Directors: Robin Bissell
Writers: Robin Bissell
Casts: Sam Rockwell, Wes Bentley, Nick Searcy, Bruce McGill, Anne Heche, Taraji P. Henson, John Gallagher Jr., Babou Ceesay
IMDB: The Best of Enemies (2019)
Sponsored Links
Ratings
User Rating:
IMDB Rating:
6.7
Reviews
Movie Nation

-

Bissell has made a film where the casting isn't the only thing that's "on-the-nose." The message, where the film's sympathies lie and its emphasis on the character with the bigger journey to make could earn it some "Green Book" styled blowback.

Chicago Tribune

-

It's a surprise and a small wonder, then, when The Best of Enemies starts getting good and pretty much stays that way to the end. This may be an apples/oranges comparison, but: For a true-ish story of racial animus, bone-deep prejudice and the American South in the civil rights era, it's a better, more nuanced and more interesting feel-good movie than a certain, recent, less interesting Best Picture Academy Award winner we could mention.

San Francisco Chronicle

-

The movie also benefits from the presence of Anne Heche as Ellis' wife. Heche doesn't say much, but she conveys a lot.

Variety

-

The Best of Enemies while not nearly as good as "Green Book," is a rock-solid movie: squarely deliberate, a little long and predictable, but honest and thoughtful enough, precise in its period and locale, with very strong performances.

Austin Chronicle

-

Leads Henson (barely recognizable under a mountain of Tyler Perry-esque practical makeup) and Rockwell turn in top-notch, emotion-laden performances, buoyed by a supporting cast of equally fine character actors.
The Best of Enemies (2019)
Centers on the unlikely relationship between Ann Atwater, an outspoken civil rights activist, and C.P. Ellis, a local Ku Klux Klan leader who reluctantly co-chaired a community summit, battling over the desegregation of schools in Durham, North Carolina during the racially-charged summer of 1971. The incredible events that unfolded would change Durham and the lives of Atwater and Ellis forever.