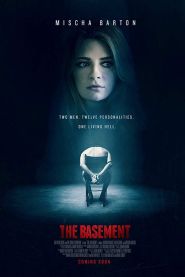 General Information
Glossary: T
Released Year: 2018
Runtime: 88 minutes
Genre: Horror
Directors: Brian M. Conley, Nathan Ives
Writers: Brian M. Conley, Nathan Ives
Casts: Tracie Thoms, Bailey Anne Borders, Mischa Barton, Maria Volk, Kareem J. Grimes, Jackson Davis, Jessica Sonneborn, Cayleb Long, Jennifer Tapiero, Christa Conley, Sarah Nicklin
IMDB: The Basement (2018)
Sponsored Links
Ratings
User Rating:
IMDB Rating:
3.6
Reviews
Film Threat

-

The film actually succeeds on several levels. Long and Davis both turn out strong performances, bolstered by above-average writing by the directors. The strongest element, however, comes in Julia Hapney's gruesome gore effects.

The Hollywood Reporter

-

For all its vividly and realistically rendered graphic violence and gore, The Basement is an example of torture porn at its most ironic. It threatens to bore its audience to death.

Variety

-

There's a big twist at the end, but like everything else here, it aims for a shock effect that the film is simply too clumsy and psychologically far-fetched to pull off.

Movie Nation

-

Every time you think "torture porn" is dead and gone, here comes another blood-and-bludgeoning tale to try and revive it.
The Basement (2018)
A seemingly innocent man is abducted by a notorious L.A. serial killer, who forces his victims to switch roles with him so that he can enact his own capture, torture and murder.