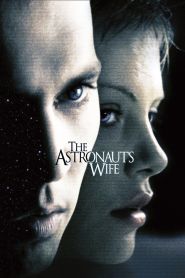 General Information
Glossary: T
Released Year: 1999
Runtime: 109 minutes
Genre: Drama, Sci-Fi, Thriller
Directors: Rand Ravich
Casts: Johnny Depp, Nick Cassavetes, Joe Morton, Lucy Lin, Gary Grubbs, Charlize Theron, Charles Lanyer, Gary Carlos Cervantes, Clea DuVall, Elston Ridgle, Linda Powell, Buck Holland, Donna Murphy, Samantha Carpel, Cole Sprouse, Dylan Sprouse, Ben Van Bergen, Tom Noonan, Seth Barrish, Blair Brown, Julian Barnes, Samantha Eggar, Carl Burrows, Sarah Dampf, Conrad Bachmann, Michael Crider, Robert Sella, Tom O'Brien, Stephen Berger, Rondi Reed, Ellen Lancaster, Priscilla Shanks, Jennifer Burry, Susan Cella, Michael Luceri, Edward Kerr
IMDB: The Astronaut's Wife (1999)
Sponsored Links
Ratings
User Rating:
IMDB Rating:
5.3
Reviews
San Francisco Chronicle

-

It's scary. It's well-acted. It's filmed with a degree of flash and elegance.

Los Angeles Times

-

A moderately diverting thriller that builds suspense and entertains effectively... strongest selling point is Charlize Theron.

New York Post

-

Could have been written by a computer programmed to cannibalize previous sci-fi films.

The New York Times

-

Depp moves through the film suavely and imperturbably, never letting the particulars bog him down.

Salon

-

Far from unwatchable. It's not a good movie but at least, on its own schlocky terms, the story makes sense (which is a lot more than you can say for "The Sixth Sense").
The Astronaut's Wife (1999)
When astronaut Spencer Armacost returns to Earth after a mission that nearly cost him his life, he decides to take a desk job in order to see his beautiful wife, Jillian, more often. Gradually, Jillian notices that Spencer's personality seems to have changed, but her concerns fade when she discovers that she's pregnant. As Jillian grows closer to becoming a mother, her suspicions about Spencer return. Why does it seem as if he's a different person?