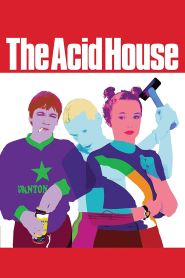 General Information
Glossary: T
Released Year: 1998
Runtime: 106 minutes
Genre: Comedy, Drama
Directors: Paul McGuigan
Casts: Garry Sweeney, Stephen McCole, Ewen Bremner, Kevin McKidd, Gary McCormack, Alex Howden, Maurice Roeves, Ronnie McCann, Irvine Welsh, Niall Greig Fulton, Barbara Rafferty, Annie Louise Ross, Martin Clunes, Malcolm Shields, Jemma Redgrave, Simon Weir, Tam Dean Burn, Arlene Cockburn, Michelle Gomez, Jenny McCrindle, Cas Harkins, Alison Peebles, Billy McElhaney, Iain Andrew, Dennis O'Connor, John Gardner, Katie Echlin, Doug Eadie, Andrea McKenna, Joanne Riley, Ricky Callan, Stephen Docherty, Jane Stabler, Pat Stanton, Stewart Preston
IMDB: The Acid House (1998)
Sponsored Links
Ratings
User Rating:
IMDB Rating:
6.3
Reviews
San Francisco Chronicle

-

A blast of manic energy in the form of a film.

The A.V. Club

-

The Acid House comes across as a shadow of "Trainspotting," albeit a vibrant, noisy, frantic shadow.

Variety

-

The Acid House makes "Trainspotting" look like a mild-mannered youth comedy.

Los Angeles Times

-

A virulent but thoroughly entertaining trilogy of tales about the besieged lower classes of Edinburgh, ripe with vulgarity, self-loathing, violence and economic disorder.

The Globe and Mail (Toronto)

-

There are flashes of excitement in this film, mostly from the verbal play and sulphurous humour of Welsh's perspective, but there's a lot that makes you wonder why you're sitting through it.
The Acid House (1998)
THE ACID HOUSE is a surreal triptych adapted by "Trainspotting" author Irvine Welsh from his acclaimed collection of short stories. Combining a vicious sense of humor with hard-talking drama, the film reaches into the hearts and minds of the chemical generation, casting a dark and unholy light into the hidden corners of the human psyche. Directed by Paul McGuigan, the film dramatises three stories from the book: 1- The Granton Star Cause, 2- A Soft Touch & 3- The Acid House.