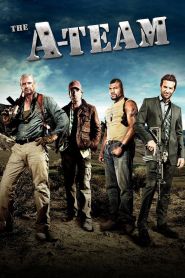 General Information
Glossary: T
Released Year: 2010
Runtime: 117 minutes
Genre: Action, Adventure, Thriller
Directors: Joe Carnahan
Casts: William 'Big Sleeps' Stewart, Maury Sterling, Jessica Biel, Alex Madison, Liam Neeson, Vince Murdocco, Jimmy Ortega, Jacob Blair, Christian Tessier, Corey Burton, Ben Hernandez Bray, Bradley Cooper, Tom Butler, Jon Hamm, C. Ernst Harth, Dwight Schultz, Darin Wong, Sharlto Copley, Joe Carnahan, Leah Carnahan, Brendan Penny, Omari Hardwick, Patrick Wilson, David Hugghins, Fraser Aitcheson, Yul Vazquez, Quinton Jackson, Gerald McRaney, Brian Bloom, Terry Chen, Neil Schell, Henry Czerny, Rad Daly, Kyle Riefsnyder, Natalie James, Marc-Anthony Massiah, Gardiner Millar, Anita Brown, Raf Rogers, Stefan Arngrim, Andrew Coghlan, James O'Sullivan, Kwesi Ameyaw, Rob Conway, Michael St. John Smith, Shaw Madson, Katie Boskovich, Tony Ali, Sam Radjinia, Billy Wickman, Jeanne-Melanie Haasbroek, Woody Carnahan, Dirk Benedict, Don Knodel, Jason Schombing, Jennifer Cheon, Stephane Fromont, Karl Maier, Anne Maier, Hitesh Jogia, Marwan Al-Shami, Ali Bordbar, Peter Fletcher, Alfred Jajjo, Shannon Christopher Wright, Patrick Merle, Ralph Shaw
IMDB: The A-Team (2010)
Sponsored Links
Ratings
User Rating:
IMDB Rating:
6.8
Reviews
Tampa Bay Times

-

The A-Team is literally a blast, from the opening credits containing more thrills than the average shoot-'em-up (and more laughs than some comedies), to a climactic orgy of CGI destruction.

Variety

-

Best enjoyed (a la the "Mission: Impossible" franchise) by simply admiring the explosions and silliness without dwelling too much on the skeletal plot.

Arizona Republic

-

If you are a stickler for movies that follow the laws of, say, physics, nature and common sense, The A-Team might not be for you. If, on the other hand, you get a kick out of exchanges like this - "Are they trying to shoot down that other drone?" "No. They're trying to fly that tank" - then you're in for a treat.

Chicago Tribune

-

Until a leaden third act, it IS reasonably entertaining.

Orlando Sentinel

-

The players embrace this for the lark it is. Their pleasure in going this gonzo spills off the screen.
The A-Team (2010)
A group of Iraq War veterans goes on the run from U.S. military forces while they try to clear their names after being framed for a crime they didn't commit. Along the way, Col. Hannibal Smith, Capt. H.M. 'Howling Mad' Murdock , Sgt. Bosco 'B.A.' Baracus, and Lt. Templeton 'Faceman' Peck help out various people they encounter.