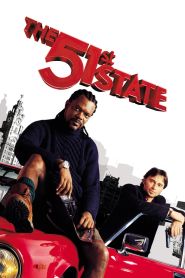 General Information
Glossary: T
Released Year: 2001
Runtime: 93 minutes
Genre: Action, Comedy, Crime
Directors: Ronny Yu
Casts: Emily Mortimer, Samuel L. Jackson, Nigel Whitmey, Meat Loaf, Rhys Ifans, Sean Pertwee, Mac McDonald, Michael J. Reynolds, Robert Carlyle, Angus MacInnes, Nick Bartlett, Terry O'Neill, Stephen Walters, Ade, Robert Jezek, Robert Fyfe, Ricky Tomlinson, Michael Starke, Anna Keaveney, Paul Barber, Junix Inocian, Jake Abraham, Aaron Swartz, David Webber, Joan Campion, Marc Anwar, Paul Broughton, Sonny Muslim, Barbara Barnes, Christopher Hunter, James Roach
IMDB: The 51st State (2001)
Sponsored Links
Ratings
User Rating:
IMDB Rating:
6.3
Reviews
Boston Globe

-

Bloody and bloody funny, and Jackson and Carlyle make the best salt-and-pepper team since Eddie Murphy and Nick Nolte knocked heads in ''48 HRS., '' but ultimately the movie can't find a way out of its own dead end.

The Globe and Mail (Toronto)

-

A formula flick. And the formula is not 51 times more entertaining than usual. Maybe 1.5, at best.

Seattle Post-Intelligencer

-

Outrageously confident and wearing a kilt through the mayhem, Jackson proves once again that he has few equals in bringing off a broad, over-the-top lead.

TV Guide Magazine

-

Cocky, vulgar and very noisy picture.

Village Voice

-

Emily Mortimer and Robert Carlyle generate heat as criminal lovers, but most of the cast just engages in embarrassing scenery-gnawing.
The 51st State (2001)
Elmo McElroy is a streetwise American master chemist who heads to England to sell his special new formula - a powerful, blue concoction guaranteed to take you to 'the 51st state.' McElroy's new product delivers a feeling 51 times more powerful than any thrill, any pleasure, any high in history. But his plans for a quick, profitable score go comically awry when he gets stuck in Liverpool with an unlikely escort and his ex-girlfriend and becomes entangled in a bizarre web of double-dealing and double-crosses.