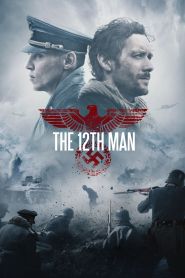 General Information
Glossary: T
Released Year: 2017
Runtime: 136 minutes
Genre: Drama, History, Thriller, War
Directors: Harald Zwart
Writers: Petter Skavlan
Casts: Jonathan Rhys Meyers, Vegar Hoel, Kristoffer Jørgensen, Mads Sjøgård Pettersen, Thomas Gullestad, Marie Blokhus, Martin Kiefer, Maria Grazia Di Meo, Håkon T. Nielsen, Håkon Smeby, Kim Jøran Olsen, J.I. Falck, David Vekony, Alexander Zwart, Jonas Fredheim, Anders Wang, Jørn Magnus Karlsen
IMDB: The 12th Man (2017)
Sponsored Links
Ratings
User Rating:
IMDB Rating:
7.4
Reviews
Village Voice

-

Harald Zwart's thrilling The 12th Man, based on the true story of a Norwegian soldier who escaped the Nazis in World War II, is a shot of adrenaline straight to the heart but also an unexpectedly tender adventure that is as celebratory as it is tense.

Movie Nation

-

Wartime survival epics are a rich genre unto themselves, and with The 12th Man, Norway has one that ranks among the very best.

Variety

-

A stirring adventure by any standard.

Los Angeles Times

-

The 12th Man is a polished crowd-pleaser, with a timeless message: Nazis suck.

The New York Times

-

The reward of Mr. Zwart's attention to the unique details of this historical account is that Jan's path to safety frequently shocks, offering scenes of defiance that are unfamiliar or unexpected. In a familiar genre, The 12th Man preserves the element of surprise by understanding its terrain.
The 12th Man (2017)
After a failed anti-Nazi sabotage mission leaves his 11 comrades dead, Norwegian resistance fighter Jan Baalsrud finds himself fleeing from the Gestapo through the snowbound reaches of Scandinavia.