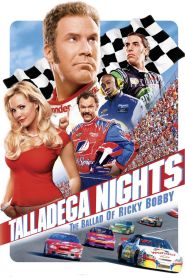 General Information
Glossary: T
Released Year: 2006
Runtime: 107 minutes
Genre: Action, Comedy, Sport
Directors: Adam McKay
Casts: Molly Shannon, Gary Cole, Will Ferrell, Michael Clarke Duncan, David Koechner, Sacha Baron Cohen, Jane Lynch, Greg Germann, John C. Reilly, Dale Earnhardt Jr., Darrell Waltrip, Leslie Bibb, Amy Adams, Rob Riggle, Grayson Russell, Ted Manson, Jack McBrayer, Adam McKay, Andy Richter, Jack Blessing, Ian Roberts, Yasiin Bey, Jason Davis, Ed Lauter, Pat Hingle, Austin Crim, Jake Johnson, Lorrie Bess Crumley, John D. King, Luke Bigham, Elvis Costello, Dick Berggren, Houston Tumlin, Mike Joy
IMDB: Talladega Nights The Ballad of Ricky Bobby (2006) - IMDB
Sponsored Links
Ratings
User Rating:
IMDB Rating:
6.6
Reviews
L.A. Weekly

-

Not just the funniest but the smartest comedy around by a mile.

Entertainment Weekly

-

The races are scorchingly shot, and they lend the movie a zest.

New York Daily News

-

Reilly can play nuts, too, and in a lower gear that reins Ferrell in. They're a great team.

The Hollywood Reporter

-

From its pitch-perfect title through just about every detail, this sendup of sports-triumph movies maintains the right parodic pitch, if not always the highest mph on the laugh speedometer.

Variety

-

Simultaneously teasing and loving a subject doesn't make for easy comedy, but writer-star Will Ferrell and director/co-writer Adam McKay pull it off with good-ol'-boy good nature in Talladega Nights: The Ballad of Ricky Bobby.
Talladega Nights The Ballad of Ricky Bobby (2006)
Lifelong friends and national idols Ricky Bobby and Cal Naughton Jr. have earned their NASCAR stripes with their uncanny knack of finishing races in the first and second slots, respectively, and slinging catchphrases like "Shake and bake!" But when a rival French driver coasts onto the track to challenge their records, they'll have to floor it to retain their top-dog status.