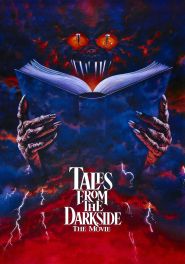 General Information
Glossary: T
Released Year: 1990
Runtime: 93 minutes
Genre: Comedy, Fantasy, Horror, Thriller
Directors: John Harrison
Casts: Christian Slater, Steve Buscemi, James Remar, Julianne Moore, Robert Klein, Alice Drummond, William Hickey, Michael Deak, Philip Lenkowsky, Rae Dawn Chong, Debbie Harry, Kathleen Chalfant, George Guidall, Matthew Lawrence, Robert Sedgwick, David Johansen, Dolores Sutton, Ashton Wise, Ralph Marrero, Nicole Leach, Donna Davidge
IMDB: Tales from the Darkside: The Movie (1990) - IMDB
Sponsored Links
Ratings
User Rating:
IMDB Rating:
6.2
Reviews
The Seattle Times

-

Harrison is more interested in teasing than frightening an audience to death, but he still manages to deliver several strong jolts. So does the cast of first-rate actors, who obviously had a marvelous time turning themselves into goons, cannibals, gargoyles and ghouls. [04 May 1990, p.28]

The New York Times

-

Nothing about Tales From the Darkside is likely to give anyone much of a scare. But thanks to casting that is savvier than the horror norm, and to direction by John Harrison that is workmanlike and sometimes even witty, at least it's fun.

Los Angeles Times

-

As a horror show, it's a cut--or a slash or a bloody whack--above most movies of this type: cleverly written, cleverly cast.

Slant Magazine

-

Each mini-movie has the same tally of moments of greatness, grossness, and dullness, giving Tales from the Darkside: The Movie an even-handed feel.

Time Out London

-

Definitely an improvement on the lamentable Creepshow or Cat's Eye, but Harrison never quite transcends the inherently limited format.
Tales from the Darkside: The Movie (1990)
The first segment features an animated mummy stalking selected student victims; the second tale tells the story of a "cat from hell" who cannot be killed and leaves a trail of victims behind it; the third story is about a man who witnesses a bizarre killing and promises never to tell what he saw and the "in-between" bit is the story of a woman preparing to cook her newspaper boy for supper.