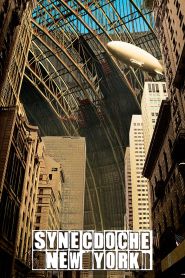 General Information
Glossary: S
Released Year: 2008
Runtime: 124 minutes
Genre: Comedy, Drama
Directors: Charlie Kaufman
Casts: Josh Pais, Samantha Morton, Philip Seymour Hoffman, Emily Watson, Hope Davis, Alice Drummond, Lynn Cohen, Daisy Tahan, Michelle Williams, Catherine Keener, Charles Techman, Elizabeth Marvel, Jennifer Jason Leigh, Dianne Wiest, Sadie Goldstein, Tom Noonan, Deirdre O'Connell, Kristen Bush, Tom Greer, Amy Wright
IMDB: Synecdoche, New York (2008) - IMDB
Sponsored Links
Ratings
User Rating:
IMDB Rating:
7.5
Reviews
The New York Times

-

To say that Charlie Kaufman's Synecdoche, New York is one of the best films of the year or even one closest to my heart is such a pathetic response to its soaring ambition that I might as well pack it in right now.

The A.V. Club

-

For this master of mindfuckery, Synecdoche, New York probably qualifies as a magnum opus, since it essentially multiplies "Adaptation" by an exponential factor and thus grows into a snarling, ungainly beast of self-reflexive absurdities.

Village Voice

-

Like most of Kaufman's work as a writer, Synecdoche, New York is a head trip that time and again returns to a place of real human emotion--in this case, to the idea that no matter how brilliant we may be or think we are, we're all looking for a little guidance (or, yes, direction) in life.

The Hollywood Reporter

-

Will mesmerize some and mystify others, while many will be bored silly. It's not a dream, Kaufman says, but it has a dreamlike quality, and those won over by its otherworldly jigsaw puzzle of duplicated characters, multiple environments and shifting time frames will dissect it endlessly.

Variety

-

A wildly ambitious and gravely serious contemplation of life, love, art, human decay and death, the film bears Kaufman's scripting fingerprints in its structural trickery and multiplane storytelling.
Synecdoche, New York (2008)
A theater director struggles with his work, and the women in his life, as he attempts to create a life-size replica of New York inside a warehouse as part of his new play.