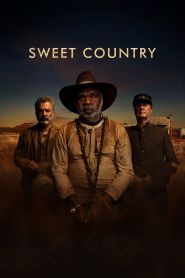 General Information
Glossary: S
Released Year: 2018
Runtime: 113 minutes
Genre: Adventure, Crime, Drama, History, Thriller, Western
Directors: Warwick Thornton
Writers: Steven McGregor, David Tranter
Casts: Ewen Leslie, Sam Neill, Bryan Brown, Matt Day, Thomas M. Wright, Hamilton Morris, Gibson John, Natassia Gorey Furber, Anni Finsterer, Tremayne Doolan, Trevon Doolan
IMDB: Sweet Country (2017)
Sponsored Links
Ratings
User Rating:
IMDB Rating:
6.9
Reviews
The Telegraph

-

Sweet Country is tough, spare and lyrical right down to the bone.... It is also a work of moral conscience that rules out easy answers, with acridly funny moments of black comedy and a sense of awesome natural spectacle that is inseparable from its dramatic impact. It has a power that makes the cinema shake.

The Guardian

-

This is fiercely powerful storytelling, simple and muscular in one way, but also conveying nuance and sophistication in its depiction of character.

The Globe and Mail (Toronto)

-

The story is both fresh and archetypal; the landscape both hard and delicate – and beautifully observed. Memories and premonitions are intriguingly inserted into the action and the performances...are note perfect.

The Playlist

-

Sweet Country is unmistakably a western in iconography and spare, taciturn tone, but it is also an incendiary slave narrative, in which the poetry of the filmmaking can barely contain a simmering fury and disgust at this most shameful of human institutions.

The Film Stage

-

Thornton establishes himself as a director to watch, and with fine performances from Neill, Brown, Gorey-Furber, and, especially, Hamilton Morris, also reveals an ability to make an epic tale feel deeply personal.
Sweet Country (2017)
It's 1929 on the vast, desert-like, Eastern Arrernte Nation lands that are now known as the Central Australian outback. Sam Kelly, a middle-aged Aboriginal man, works the land of a kind preacher, Fred Smith. After an ill-tempered bully arrives in town and Kelly kills him in self-defence, he and his wife go on the run as a posse gathers to hunt him down.