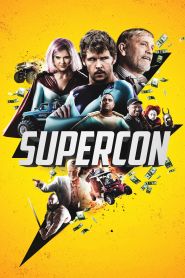 General Information
Glossary: S
Released Year: 2018
Runtime: 100 minutes
Genre: Comedy
Directors: Zak Knutson
Writers: Dana Snyder, Zak Knutson, Andy Sipes
Casts: Maggie Grace, John Malkovich, Mike Epps, Clancy Brown, Dana Snyder, Russell Peters, Ryan Kwanten, Candi Brooks, Josh Perry, Hunter Burke, Zak Knutson, Jeff Pope, Cailey Fleming, CariDee English, Brandon Morales
IMDB: Supercon (2018)
Sponsored Links
Ratings
User Rating:
IMDB Rating:
3.7
Reviews
ReelViews

-

Supercon has its moments, although not nearly enough of them, and its grossest-of-gross-out scenes might be disgusting enough to cause John Waters to wince.

Variety

-

The humor misfires painfully even when it just tries to be charming.

Village Voice

-

More than anything else, Supercon is a drag: The heist plot offers none of the excitement typically associated with the genre. If you find repeated use of the phrase "ball cancer" hilarious, you'll be well served; if you don't, well, it's a tough sit.

The New York Times

-

Supercon offers lip service to fan culture, yet it is difficult to imagine who would enjoy watching this ill-conceived satire. Directed by Zak Knutson, who also contributed to the screenplay, the movie is careless with its setting, callous toward its characters and crass about its audience.

Los Angeles Times

-

While clearly aiming for R-rated irreverence, the script, penned by former Kevin Smith assistant Knutson, along with Andy Snipes and Dana Snyder, proceeds to hurl a tired barrage of obnoxious sexist/racist/homophobic sludge, with humor that seldom rises above crotch level.
Supercon (2018)
A ragtag group of former TV stars and comic book artists who make their living working at conventions decide to steal the loot from a crooked promoter and an overbearing former TV icon.