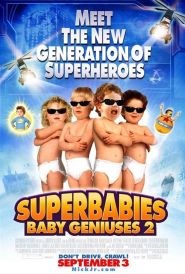 General Information
Glossary: S
Released Year: 2004
Runtime: 88 minutes
Genre: Comedy, Family, Sci-Fi
Directors: Bob Clark
Casts: Jon Voight, Whoopi Goldberg, Peter Wingfield, Vanessa Angel, Justin Chatwin, Skyler Shaye, Scott Baio, Erik-Michael Estrada, Keana Bastidas
IMDB: Superbabies: Baby Geniuses 2 (2004)
Sponsored Links
Ratings
User Rating:
IMDB Rating:
2.0
Reviews
Entertainment Weekly

-

The film's moral? Turn off the TV, young 'uns, and go outside and play! And avoid Superbabies: Baby Geniuses 2 matinees while you're at it.

The Hollywood Reporter

-

The sequel retains not only the same gimmicky premise as the original but its preference for cliche-ridden dialogue and flat-footed comedy as well.

TV Guide Magazine

-

Entirely too convoluted for kids and implausible even by the standards set by the original concept.

USA Today

-

Here's a late-August dog-days atrocity from the "aren't farts funny?" school of filmmaking.

New York Daily News

-

Features even more toddlers acting in a way only collectors of velvet paintings will consider irresistible.
Superbabies: Baby Geniuses 2 (2004)
Following on from the plot of the last movie, babies can communicate with each other using 'baby talk', and have an innate knowledge of the secrets of the universe. The baby geniuses become involved in a scheme by media mogul Bill Biscane (Jon Voight). Helping the geniuses is a legendary superbaby named Kahuna. He joins up with several other babies in an attempt to stop Biscane, who intends to use a state-of-the-art satellite system to control the world's population.