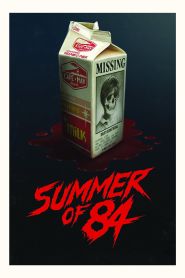 General Information
Glossary: S
Released Year: 2018
Runtime: 105 minutes
Genre: Drama, Horror, Mystery, Thriller
Directors: Anouk Whissell, François Simard, Yoann-Karl Whissell
Writers: Matt Leslie, Stephen J. Smith
Casts: Jason Gray-Stanford, Mark Brandon, Rich Sommer, Harrison Houde, William MacDonald, Patrick Keating, Caleb Emery, Tiera Skovbye, Judah Lewis, Cory Gruter-Andrew, Graham Verchere, Patrick Lubczyk, Jordan Buhat, J. Alex Brinson, Susie Castillo, Jaiven Natt, Shauna Johannesen, Aren Buchholz, Reilly Jacob, Shahrokh Ferdowsi
IMDB: Summer of 84 (2018)
Sponsored Links
Ratings
User Rating:
IMDB Rating:
6.7
Reviews
Film Threat

-

Summer '84 requires patience. If you find yourself feeling like you're bored by familiarity, just wait. You won't be disappointed.

Village Voice

-

If you're patient, though, and not put off by the familiarity of this material, Summer of '84 gains in interest and urgency as it goes.

The Verge

-

Where Stranger Things goes for subtle, Summer goes for on-the-nose. Where the Netflix show offers nuanced, empathetic characters, this film gives us cardboard cutouts with performances to match.

The Film Stage

-

At its height, Summer of '84 sings like a sandy page-turner you end up finishing in the fall, with the wind swirling and mischief night just around the corner.

Austin Chronicle

-

There's an earnestness amid the well-executed jump scares and gruesome pay-off, an honesty that can sometimes be in short supply in teen-centric horror.
Summer of 84 (2018)
Summer is usually a time for fun and games, but some teens get much more danger than they bargained for after beginning to suspect their neighbor is a serial murderer.