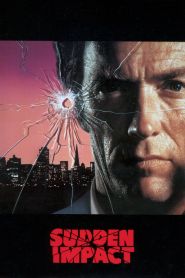 General Information
Glossary: S
Released Year: 1983
Runtime: 117 minutes
Genre: Action, Crime, Thriller
Directors: Clint Eastwood
Writers: Dean Riesner
Casts: Clint Eastwood, Audrie Neenan, Kevyn Major Howard, Pat Hingle, Joe Bellan, Bette Ford, Jack Thibeau, Bradford Dillman, Michael V. Gazzo, Albert Popwell, Sondra Locke, Michael Currie, Nancy Parsons, Lisa London, Wendell Wellman, Paul Drake, Mark Keyloun, Mara Corday
IMDB: Sudden Impact (1983)
Sponsored Links
Ratings
User Rating:
IMDB Rating:
6.6
Reviews
Chicago Sun-Times

-

Sudden Impact is a Dirty Harry movie with only the good parts left in. All the slow stuff, such as character, motivation, atmosphere and plot, has been pared to exactly the minimum necessary to hold together the violence.

ReelViews

-

A viscerally effective, fast paced thriller.

Variety

-

A brutally hard-hitting policier which casts Clint Eastwood as audiences like to see him, as the toughest guy in town.

Chicago Reader

-

The film is split down the middle, with many elegant symmetries and curling plotlines bridging the two halves: one part is a bracing, funny, almost Keaton-esque comedy starring Harry as a deadpan center of disaster; the other is a brooding, brutal film noir, starring Sondra Locke as a vengeful femme fatale.

Miami Herald

-

Harry is more fun, and he is less the fascist. Considering the genre -- bloody crimebusting and to-hell-with-your-rights- pal -- these are no small blessings. [12 Dec 1983, p.C6]
Sudden Impact (1983)
When a young rape victim takes justice into her own hands and becomes a serial killer, it's up to Dirty Harry Callahan, on suspension from the SFPD, to bring her to justice.