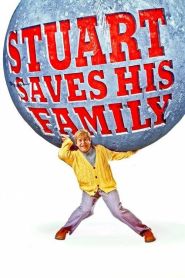 General Information
Glossary: S
Released Year: 1995
Runtime: 95 minutes
Genre: Comedy, Drama
Directors: Harold Ramis
Casts: Shirley Knight, Richard Riehle, Julia Sweeney, Vincent D'Onofrio, Harris Yulin, Michelle Horn, Phil Hartman, Marjorie Lovett, Erik Cord, Cory Milano, Laura San Giacomo, Walter Robles, Denver Mattson, Lesley Boone, Al Franken, John Link Graney, Grant Hoover
IMDB: Stuart Saves His Family (1995)
Sponsored Links
Ratings
User Rating:
IMDB Rating:
5.2
Reviews
Washington Post

-

Subtly riotous.

Chicago Sun-Times

-

A genuine surprise: A movie as funny as the "SNL" stuff, and yet with convincing characters, a compelling story and a sunny, sweet sincerity shining down on the humor.

Chicago Reader

-

Even if you find Franken hard to bear, as I do, the movie's take on how he functions in the world is both authoritative and compelling, and the movie steadily grows in stature.

The New York Times

-

Little more than a set of intermittently funny skits strung together by a sketchy nonplot about Stuart's relatives. As directed by Harold Ramis, it's seldom better than just amiable.

TV Guide Magazine

-

Often funny, darker than you'd expect, and firmly grounded in Franken's extensive experience of the 12-Step worldview.
Stuart Saves His Family (1995)
Stuart Smalley, the Saturday Night Live character, comes to the big screen. Stuart, the disciple of the 12 step program, is challenged by lifes injustices.