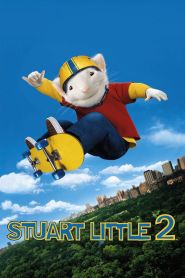 General Information
Glossary: S
Released Year: 2002
Runtime: 78 minutes
Genre: Adventure, Animation, Comedy, Family, Fantasy
Directors: Rob Minkoff
Casts: Hugh Laurie, Nathan Lane, James Woods, Rachael Harris, Steve Zahn, Marc John Jefferies, Melanie Griffith, Jonathan Lipnicki, Maria Bamford, Geena Davis, Michael J. Fox, Anna Hoelck, Ashley Hoelck, Kevin Olson
IMDB: Stuart Little 2 (2002)
Sponsored Links
Ratings
User Rating:
IMDB Rating:
5.5
Reviews
Washington Post

-

A wonderful thing to snuggle into, as full of heart and pep and innocence as the title character himself.

Variety

-

Slight but lively sequel. Aimed squarely at moppets with piddling attention spans.

Austin Chronicle

-

It's easy enough to forget there are special effects involved, so convincing is Stu's rippling fur and big beamy eyes filling up with tears.

San Francisco Chronicle

-

May hit a few wrong notes, but it strikes an emotional chord.

Wall Street Journal

-

It's hard to imagine spending $120 million on a film starring a computer-generated mouse -- an actor who barely demands a byte to eat -- but if that's how much it takes to provide innocent enchantment for the global hordes, so be it. This sequel beats the original paws down.
Stuart Little 2 (2002)
Stuart, an adorable white mouse, still lives happily with his adoptive family, the Littles, on the east side of Manhattan's Central Park. More crazy mouse adventures are in store as Stuart, his human brother, George, and their mischievous cat, Snowbell, set out to rescue a friend.