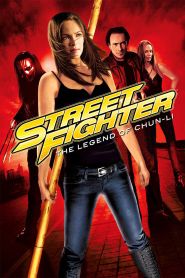 General Information
Glossary: S
Released Year: 2009
Runtime: 97 minutes
Genre: Action, Adventure, Sci-Fi, Thriller
Directors: Andrzej Bartkowiak, Andrzej Bartkowiak
Casts: Michael Clarke Duncan, Neal McDonough, Moon Bloodgood, Chris Klein, Robin Shou, Josie Ho, Kristin Kreuk
IMDB: Street Fighter: The Legend of Chun-Li (2009)
Sponsored Links
Ratings
User Rating:
IMDB Rating:
3.7
Reviews
Variety

-

Neither the best nor the worst of movies derived from videogames, Street Fighter: The Legend of Chun-Li at least gives action fans plenty to ogle besides the titular heroine (Kristin Kreuk), whose original incarnation, legend has it, was among the first distaff figures controllable by joystick.

The New York Times

-

Reveling in the vivid Bangkok locations, Geoff Boyle's photography is crisp and bright, and Dion Lam's action choreography unusually witty.

The Hollywood Reporter

-

Director Andrzej Bartkowiak ("Romeo Must Die") works hard to supply the appropriate grittiness, but other than a few reasonably well-staged fight sequences, the proceedings are dull and visually uninspired. Justin Marks' solemn screenplay lacks any trace of wit.

TV Guide Magazine

-

There's something special about this underwhelming mess of a Street Fighter reboot that many cinematic cheese-lovers will find very appetizing. The fact is that The Legend of Chun-Li is not at all a good flick, but it's filled with so much cornball ineptitude that one would think some rather broken mad movie genius was behind it.

Boston Globe

-

This is a movie for the overcaffeinated, undereducated teenager in all of us.
Street Fighter: The Legend of Chun-Li (2009)
When a teenager, Chun-Li witnesses the kidnapping of her father by wealthy crime lord M. Bison. When she grows up, she goes into a quest for vengeance and becomes the famous crime-fighter of the Street Fighter universe.