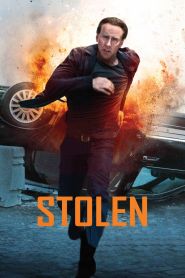 General Information
Glossary: S
Released Year: 2012
Runtime: 96 minutes
Genre: Action, Drama, Thriller
Directors: Simon West
Writers: David Guggenheim
Casts: Nicolas Cage, Edrick Browne, Josh Lucas, Malin Åkerman, Barry Shabaka Henley, M.C. Gainey, Mustafa Harris, Mark Valley, Danny Huston, John McConnell, Tom Waite, Shanna Forrestall, Marcus Lyle Brown, Kevin Foster, J.D. Evermore, Kyle Russell Clements, Sami Gayle, Garrett Hines, Tanc Sade, Dan Braverman, Jon Eyez, Matt Nolan, Tyler Forrest, Brian Kinney, Joe Williams, Derek Schreck, Tim Bell, Dave Davis, Bernadette Ralphs, Emily West, Randall Nelms
IMDB: Stolen (2012) - IMDB
Sponsored Links
Ratings
User Rating:
IMDB Rating:
5.5
Reviews
The A.V. Club

-

He seems to have given up on making art long ago; these days, all he wants to do is entertain, and with Stolen, he succeeds, albeit only on the guilty-pleasure level. Like seemingly the sum of late-period Cage, Stolen is unashamedly cheese, but at least it's cheese of a pungent, flavorful vintage.

NPR

-

Stolen is less shameless than "Taken" - which featured evil Albanians and other assorted politically incorrect appurtenances - which also makes it less effective.

Entertainment Weekly

-

The longest stretch of logical plotting lasts about forty seconds, and the deep-rooted silliness makes it hard to take anything in the film seriously. But at least it has the decency never to ask us to.

McClatchy-Tribune News Service

-

For all the heists, chases and shoot-outs, it's a sluggish picture. Characters feel the need to stop the action to explain themselves. Thoroughly.
Stolen (2012)
Master thief Will Montgomery is just released from the State penitentiary after serving a 10 year sentence, is contacted by Vincent, his ex comrade in crime, who is holding Will's teenage daughter ransom in a hijacked taxi cab. Vincent will only surrender her when Will reveals the whereabouts of the 20 million dollars he contrived to conceal from their last robbery.