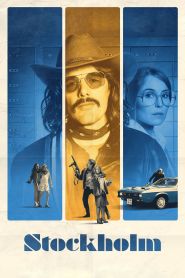 General Information
Glossary: S
Released Year: 2019
Runtime: 92 minutes
Genre: Comedy, Crime, Drama
Directors: Robert Budreau
Writers: Robert Budreau
Casts: Christopher Heyerdahl, Gustaf Hammarsten, Mark Strong, Noomi Rapace, Ethan Hawke, Jessica Sherman, John Ralston, Mark Rendall, Ian Matthews, Bea Santos, David Christo, Thorbjørn Harr, Jonelle Gunderson, Carrie Beale, Shanti Roney, Hanneke Talbot, Christopher Wagelin, Vladimir Jon Cubrt, Linzee Barclay, Anders Yates, Nick Stojanovic, Nora Prinzen-Klages, Lars Classington, Alexander Musgrove, Uhraney Adrian, Violetta Pioro, Rebecka Andersson, Iman Mirbioki
IMDB: Stockholm (2019)
Sponsored Links
Ratings
User Rating:
IMDB Rating:
6.3
Reviews
The Hollywood Reporter

-

Stockholm, which gently massages actual events to serve as a fine vehicle for Noomi Rapace and Ethan Hawke, is far from the first movie to believably show a crime victim coming to sympathize with a criminal. But it's a funny and agile one.

The Film Stage

-

As a comedy with a good-natured soul doing bad things to earn his surrogate brother freedom, Stockholm is a success.

TheWrap

-

If you're willing to take the movie for what it really is — a fairly generic caper inspired by, rather than based on, actual events — you'll find just enough to appreciate.

The New York Times

-

Drowsy in feel and muted in color, Stockholm is lightly amusing and watchable — mostly thanks to Hawke — but never makes the case that this is a story that needed to be told, with or without laughs.

The A.V. Club

-

Hawke is no stranger to elevating subpar material with a committed performance, but his fidgety crook-with-a-heart-of-gold act is undercut by Budreau's uncreative use of the limited setting (almost the whole thing takes place inside the bank) and unskillful handling of the broad tone.
Stockholm (2019)
Based on the extraordinary true story of the European city's 1973 bank heist and hostage crisis that was documented in the 1974 New Yorker article "The Bank Drama" by Daniel Lang. The events grasped the world's attention when the hostages bonded with their captors and turned against the authorities, giving rise to the psychological phenomenon known as "Stockholm Syndrome."