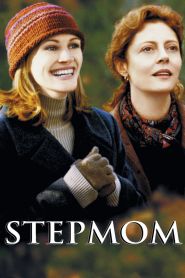 General Information
Glossary: S
Released Year: 1998
Runtime: 124 minutes
Genre: Comedy, Drama
Directors: Chris Columbus
Casts: Ed Harris, Jena Malone, Susan Sarandon, Julia Roberts, Liam Aiken, Andre B. Blake, Naama Kates, Mary Louise Wilson, Jason Maves, Mak Gilchrist
IMDB: Stepmom (1998)
Sponsored Links
Ratings
User Rating:
IMDB Rating:
6.7
Reviews
New Times (L.A.)

-

A genuinely affecting movie that approaches its adult themes with intelligence, maturity, and rare authenticity.

The New York Times

-

To its credit, the film doesn't sugarcoat its women too monstrously, and it lets real conflicts and opinions occasionally creep in.

Variety

-

Everything about the film suggests that its makers consider it a deep, emotionally probing drama, but it's merely a soap opera with elevated production values and a sterling cast.

Los Angeles Times

-

It may be unfair to ask a film like this not to be shamelessly manipulative, but wouldn't it be nice if audiences could be trusted to feel things more or less on their own without layers of unnecessary hokum entering the picture?

Chicago Tribune

-

Too loud, bright and shallow for its subject: a movie that pushes too many obvious buttons to build naturally to the big, heartbreaking climax it obviously wants.
Stepmom (1998)
Jackie is a divorced mother of two. Isabel is the career minded girlfriend of Jackie's ex-husband Luke, forced into the role of unwelcome stepmother to their children. But when Jackie discovers she is ill, both women realise they must put aside their differences to find a common ground and celebrate life to the fullest, while they have the chance.