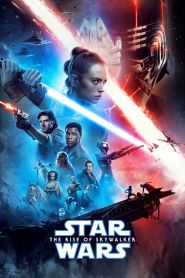 General Information
Glossary: S
Released Year: 2019
Runtime: 142 minutes
Genre: Action, Adventure, Sci-Fi
Directors: J.J. Abrams
Casts: Andy Serkis, John Williams, Richard E. Grant, Andrew Havill, Fred Tatasciore, Greg Grunberg, Carrie Fisher, Harrison Ford, Dee Bradley Baker, Samuel Witwer, Samuel L. Jackson, Indra Ové, Liam Neeson, Mike Quinn, Grey DeLisle, Robin Atkin Downes, Patrick Kennedy, Dominic Monaghan, David Acord, J.J. Abrams, Tom Kane, Nigel Godrich, Keri Russell, Karl Urban, Matthew Wood, Oscar Isaac, Paul Kasey, Steve Blum, Hayden Christensen, Warwick Davis, Mark Hamill, Billy Dee Williams, Anthony Daniels, Frank Oz, Ian McDiarmid, James Earl Jones, Alec Guinness, Denis Lawson, Kiran Shah, Bill Kipsang Rotich, Ashley Eckstein, James Arnold Taylor, Vinette Robinson, Amanda Lawrence, Shirley Henderson, Adam Driver, Olivia d'Abo, Domhnall Gleeson, Ewan McGregor, Jessica Tuck, Amanda Foreman, Freddie Prinze Jr., Terri Douglas, Richard Bremmer, Debra Wilson, Vanessa Lengies, Josef Altin, Jennifer Hale, Tara Strong, Ashley Beck, John Boyega, Lin-Manuel Miranda, Chris Terrio, Yuri Lowenthal, David Boat, Nasser Memarzia, Vanessa Marshall, Jonathan Dixon, Lupita Nyong'o, Amanda Hale, Lynn Robertson Bruce, Janina Gavankar, Geff Francis, Lex Lang, Joe Kennard, Mimi Ndiweni, Reggie Watts, Philicia Saunders, Mandeep Dhillon, Billy Howle, Aaron Neil, Daisy Ridley, Joonas Suotamo, Billie Lourd, Cailey Fleming, Brian Herring, Verona Blue, Michelle Rejwan, Karen Huie, Stefan Grube, Ed Sheeran, Kelly Marie Tran, Carolyn Hennesy, Martin Wilde, Nick Kellington, Aidan Cook, Julian Stone, Naomi Ackie, J.D. Dillard, Jodie Comer, Jacob Fortune-Lloyd, Amir El-Masry, Dave Chapman, Richard Coombs, Ann Firbank, Bryony Miller, Hassan Taj, Lee Towersey, Richard Guiver, Claire Roi Harvey, Matt Denton, Alison Rose, Tanya Moodie, Simon Paisley Day, Patrick Williams, Anton Simpson-Tidy, Lukaz Leong, Tom Rodgers, Cyril Nri, Angela Christian, Mark Richard Durden Smith, Joe Hewetson, Raghad Chaar, Tom Wilton, Harrison Davis, Elliot Hawkes, Dhani Harrison, Dave Hearn, Rochenda Sandall, Andreea Diac, Liam Cook, Josefine Irrera Jackson, Angelique Perrin, Dan Adler, David W. Collins, Mike Holland, Logic, Donald Mustard, Nicole Nasca Supercinski, Diana Kent
IMDB: Star Wars: The Rise of Skywalker (2019)
Sponsored Links
Ratings
User Rating:
IMDB Rating:
6.8
Reviews
New York Post

-

Although director J.J. Abrams tries his darndest to finish the job, conjuring up nostalgia like a TV medium, "Rise" doesn't feel like the last chapter of the biggest American movie franchise. It's just another well-made "Star Wars" flick.

IGN

-

For as much love, passion, and nostalgia is evident in this movie, it's also a film very palpably made from a place driven by fear of disappointing the audience, and that anxiety fuels a lot of the story's curious creative choices and unwieldy execution.

USA Today

-

It's impressively ambitious, though great new personalities and fresh storytelling suffer for the sake of fan service.

The Guardian

-

If you're going to do a send-off this huge, there are a lot of goodbyes to say, and a lot of loose ends to tie up. The fact that The Rise of Skywalker manages most of them and within a vaguely coherent story is something of an achievement in itself.

Screen Rant

-

Star Wars: The Rise of Skywalker gets bogged down in exposition and course-correcting The Last Jedi, but does have some fun moments and fan service.
Star Wars: The Rise of Skywalker (2019)
The surviving Resistance faces the First Order once again as the journey of Rey, Finn and Poe Dameron continues. With the power and knowledge of generations behind them, the final battle begins.