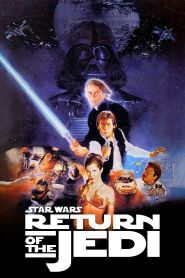 General Information
Glossary: S
Released Year: 1983
Runtime: 135 minutes
Genre: Action, Adventure, Sci-Fi
Directors: Richard Marquand
Casts: Phil Tippett, Michael Pennington, Carrie Fisher, Harrison Ford, Chris Romano, Mike Quinn, Deep Roy, Debbie Lee Carrington, Warwick Davis, Mark Hamill, Billy Dee Williams, Anthony Daniels, David Prowse, Kenny Baker, Peter Mayhew, Frank Oz, Ian McDiarmid, James Earl Jones, Sebastian Shaw, Alec Guinness, Caroline Blakiston, Kenneth Colley, Michael Carter, Denis Lawson, Tim Rose, Dermot Crowley, Jeremy Bulloch, Femi Taylor, Annie Arbogast, Claire Davenport, Jack Purvis, Mike Edmonds, Jane Busby, Malcolm Dixon, Mike Cottrell, Nicki Reade, Adam Bareham, Jonathan Oliver, Pip Miller, Tom Mannion, Margo Apostolos, Ray Armstrong, Eileen Baker, Michael Henbury Ballan, Bobby Bell, Patty Bell, Alan Bennett, Sarah Bennett, Pamela Betts, Danny Blackner, Linda Bowley, Peter Burroughs, Maureen Charlton, Willie Coppen, Sadie Corre, Tony Cox, John Cumming, Jean D'Agostino, Luis De Jesus, Debbie Dixon, Margarita Fernández, Phil Fondacaro, Sal Fondacaro, Tony Friel, Daniel Frishman, John Ghavan, Michael Gilden, Paul Grant, Lydia Green, Lars Green, Pam Grizz, Andrew Herd, J.J. Jackson, Richard Jones, Trevor Jones, Glynn Jones, Karen Lay, John Lummiss, Nancy MacLean, Peter Mandell, Carole Morris, Stacie Nichols, Chris Nunn, Barbara O'Laughlin, Brian Orenstein, Harrell Parker Jr., John Pedrick, April Perkins, Ronnie Phillips, Katie Purvis, Carol Read, Nicholas Read, Diana Reynolds, Danielle Rodgers, Dean Shackelford, Kiran Shah, Felix Silla, Linda Spriggs, Gerald Staddon, Josephine Staddon, Kevin Thompson, Kendra Wall, Brian Wheeler, Butch Wilhelm, Dalyn Chew, Celia Fushille-Burke, Mercedes Ngoh, Jennifer Jaffe, Mark Dodson, Simon J. Williamson, Richard Bonehill, David Gonzales, Barrie Holland, Peter Roy, Erik Bauersfeld, Bill Kipsang Rotich, Alisa Berk, Hugh Spight, Swee Lim, Richard Robinson, Gerald Home, Phil Herbert, Tim Dry, Sean Crawford, Michael McCormick, Toby Philpott, David Alan Barclay, Larry Ward
IMDB: Star Wars: Episode VI – Return of the Jedi – Despecialized (1983)
Sponsored Links
Ratings
User Rating:
IMDB Rating:
8.3
Reviews
Chicago Sun-Times

-

'Return of the Jedi' is fun, magnificent fun. The movie is a complete entertainment, a feast for the eyes and a delight for the fancy. It's a little amazing how Lucas and his associates keep topping themselves.

Entertainment Weekly

-

Best of all, a revisit with Jedi makes a viewer appreciate spectacle, presentation, mythology -- that, and the power of a bitchin' helmet to speak volumes in a language even an alien can understand. [Special Edition]

Christian Science Monitor

-

Less original than the first "Star Wars" and less resonant than "The Empire Strikes Back," but packed with fast-paced action and downright cuddly Ewoks.

ReelViews

-

Cuteness is the watchword here. The dark, eerie atmosphere that oozed from every frame of "The Empire Strikes Back" is gone. Instead, for Return of the Jedi, we have good triumphing decisively over evil, a too-pat resolution to a love triangle, and walking teddy bears.

TV Guide Magazine

-

The dialogue is repetitive ("I won't give in to the dark side of the Force!" "You will!") and significant characters from earlier films -- notably bounty hunter Boba Fett and Yoda -- are dispatched without fanfare, and the whole business has a slightly rushed, perfunctory feel at the same time that it feels oddly attenuated.
Star Wars: Episode VI – Return of the Jedi – Despecialized (1983)
As Rebel leaders map their strategy for an all-out attack on the Emperor's newer, bigger Death Star. Han Solo remains frozen in the cavernous desert fortress of Jabba the Hutt, the most loathsome outlaw in the universe, who is also keeping Princess Leia as a slave girl. Now a master of the Force, Luke Skywalker rescues his friends, but he cannot become a true Jedi Knight until he wages his own crucial battle against Darth Vader, who has sworn to win Luke over to the dark side of the Force.