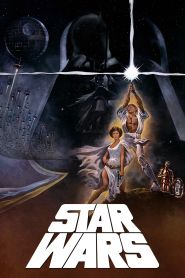 General Information
Glossary: S
Released Year: 1977
Runtime: 121 minutes
Genre: Action, Adventure, Sci-Fi
Directors: George Lucas
Writers: George Lucas
Casts: Phil Tippett, Carrie Fisher, Harrison Ford, Mark Hamill, Anthony Daniels, David Prowse, Kenny Baker, Peter Mayhew, James Earl Jones, Alec Guinness, Denis Lawson, Jack Purvis, Larry Ward, Burnell Tucker, Lightning Bear, Peter Diamond, Alan Harris, Tiffany L. Kurtz, Joe Johnston, Steve 'Spaz' Williams, Malcolm Tierney, Angus MacInnes, Rusty Goffe, Doug Beswick, Rick McCallum, Colin Higgins, Scott Beach, Shane Rimmer, William Hootkins, Reg Harding, Harry Fielder, Marcus Powell, Derek Lyons, Phil Brown, Richard LeParmentier, Frank Henson, Garrick Hagon, Ron Tarr, George Roubicek, Alf Mangan, Fred Wood, Colin Michael Kitchens, Peter Cushing, Shelagh Fraser, Eddie Byrne, Don Henderson, Alex McCrindle, Drewe Henley, Jack Klaff, Leslie Schofield, Michael Leader, Jeremy Sinden, Graham Ashley, David Ankrum, Mark Austin, Jon Berg, Paul Blake, Janice Burchette, Ted Burnett, John Chapman, Gilda Cohen, Tim Condren, Barry Copping, Alfie Curtis, Robert Davies, Maria De Aragon, Robert A. Denham, Frazer Diamond, Warwick Diamond, Sadie Eden, Kim Falkinburg, Ted Gagliano, Salo Gardner, Steve Gawley, Barry Gnome, Isaac Grand, Nelson Hall, Christine Hewett, Arthur Howell, Tommy Ilsley, Annette Jones, Linda Jones, Joe Kaye, Melissa Kurtz, Al Lampert, Anthony Lang, Laine Liska, Mahjoub, Grant McCune, Geoffrey Moon, Mandy Morton, Lorne Peterson, Pam Rose, Erica Simmons, Angela Staines, George Stock, Roy Straite, Peter Sturgeon, Peter Sumner, John Sylla, Tom Sylla, Morgan Upton, Jerry Walter, Hal Wamsley, Diana Sadley Way, Harold Weed, Bill Weston
IMDB: Star Wars: Episode IV – A New Hope – Despecialized (1977)
Sponsored Links
Ratings
User Rating:
IMDB Rating:
8.6
Reviews
Chicago Reader

-

An exhilarating update of "Flash Gordon," very much in the same half-jokey, half-earnest mood, but backed by special effects that, for once, really work and are intelligently integrated with the story.

Chicago Sun-Times

-

If I were asked to say with certainty which movies will still be widely known a century or two from now, I would list "2001,'' "The Wizard of Oz,'' Keaton and Chaplin, Astaire and Rogers, and probably "Casablanca'' ... and "Star Wars,'' for sure.

ReelViews

-

Like all great craftsmen, Lucas has managed to fashion this material in a manner that not only honors the original sources, but makes it uniquely his own. Hacks rip off other movies; artists synthesize and pay homage to their inspirations.

San Francisco Chronicle

-

Star Wars, set "a long time ago in a galaxy far, far away," is the most exciting picture to be released this year — exciting as theater and exciting as cinema. It is the most visually awesome such work to appear since "2001: A Space Odyssey," yet is intriguingly human in its scope and boundaries.

San Francisco Examiner

-

A marvelous child of Star Wars technology, the advanced sound design makes a celebratory re-viewing of George Lucas' legendary, 20-year-old space opera a thrilling experience. [Special Edition]
Star Wars: Episode IV – A New Hope – Despecialized (1977)
Princess Leia is captured and held hostage by the evil Imperial forces in their effort to take over the galactic Empire. Venturesome Luke Skywalker and dashing captain Han Solo team together with the loveable robot duo R2-D2 and C-3PO to rescue the beautiful princess and restore peace and justice in the Empire.