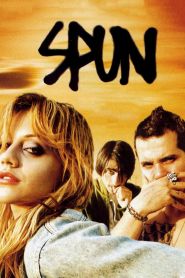 General Information
Glossary: S
Released Year: 2002
Runtime: 101 minutes
Genre: Comedy, Crime, Drama
Directors: Jonas Åkerlund
Casts: Ron Jeremy, Brittany Murphy, Jason Schwartzman, John Leguizamo, Peter Stormare, Alexis Arquette, Mickey Rourke, Josh Peck, Mena Suvari, Larry Drake, Patrick Fugit, Charlotte Ayanna, Eric Roberts, Николас Гонзалез, Debbie Harry, Billy Corgan, Tony Kaye, Elisa Bocanegra, China Chow, Chloe Hunter, Rob Halford
IMDB: Spun (2002)
Sponsored Links
Ratings
User Rating:
IMDB Rating:
6.8
Reviews
Dallas Observer

-

Akerlund and crew use their full arsenal of lenses and editing techniques in service of leaving you spun, but it's undeniable that this movie was produced by steady hands and thoughtful minds.

Washington Post

-

It's like the longest just-say-no commercial in history, only you'd say no not because drugs are evil but because you don't want to get a serious foot fungus.

San Francisco Chronicle

-

Has no insights, no point, no urgency and no importance.

TV Guide Magazine

-

You can't accuse the film of making speed addiction look glamorous, but the freak-show kick is too compelling for it to be called cautionary.

New York Magazine (Vulture)

-

As the cowboy-hatted wild man who cooks up speed in his motel-room lab, Rourke, who looks at home in his tattoos, is mesmerizingly grungy. He strikes a rare note of authenticity in this otherwise phony fandango.
Spun (2002)
Over the course of three days Ross, a college dropout addicted to crystal-meth, encounters a variety of oddball folks - including a stripper named Nikki and her boyfriend, the local meth producer, The Cook - but all he really wants to do is hook up with his old girlfriend, Amy.