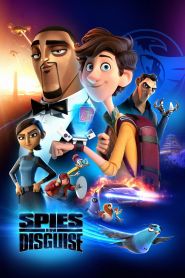 General Information
Glossary: S
Released Year: 2019
Runtime: 102 minutes
Genre: Action, Adventure, Animation, Comedy
Directors: Troy Quane, Nick Bruno
Casts: Rashida Jones, Carla Jimenez, Masi Oka, Hiroshi Otaguro, Will Smith, Troy Quane, Ben Mendelsohn, J. B. Blanc, Mark Ronson, Stefania Spampinato, Toshiya Agata, William-Christopher Stephens, Rachel Brosnahan, Reba McEntire, Tom Holland, Karen Gillan, DJ Khaled, Olly Murs, Toru Uchikado, Tawny Newsome, Peter S. Kim, Gabriel Conte, Rashawn Nadine Scott, Nick Bruno, Eddie Mujica
IMDB: Spies in Disguise (2019)
Sponsored Links
Ratings
User Rating:
IMDB Rating:
6.8
Reviews
Entertainment Weekly

-

It's a proud piece of family entertainment with a good heart, an eye for inventive action, and a delightfully wacky sense of humor.

IndieWire

-

While the beats are familiar and even a film about animated pigeons can't quite break out of the tropes that have long defined the spy film genre, it's the kind of sweetly demented late-December diversion that should entertain plenty of holiday-weary families.

Movie Nation

-

Smith's easy way with a joke keeps the tone light, and for all the mayhem, this is still pretty fluffy and cute. It's not "The Incredibles," but it's a reasonable and quite amusing facsimile.

The Guardian

-

As with so many family animations right now, I felt that the script stays on the safe side, with fewer smart lines and ironic gags than I might have wished for, but this is a good-natured entertainment.

Empire

-

Better in conception than execution, Spies In Disguise never really gets the best out of its James Bond Is A Pigeon high concept. The result is entertaining while it lasts, but won't lodge itself permanently in your memory bank.
Spies in Disguise (2019)
Super spy Lance Sterling and scientist Walter Beckett are almost exact opposites. Lance is smooth, suave and debonair. Walter is… not. But what Walter lacks in social skills he makes up for in smarts and invention, creating the awesome gadgets Lance uses on his epic missions. But when events take an unexpected turn, Walter and Lance suddenly have to rely on each other in a whole new way.