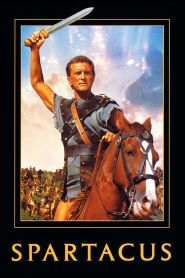 General Information
Glossary: S
Released Year: 1960
Runtime: 197 minutes
Genre: Action, Adventure, Drama, History
Directors: Stanley Kubrick
Casts: Buddy Van Horn, Tom Steele, Victor Paul, Laurence Olivier, Nina Foch, Joanna Barnes, Chuck Roberson, George Kennedy, John Gavin, Woody Strode, Carey Loftin, Dale Van Sickel, Gordon Mitchell, Lars Hensen, Joe Canutt, Jean Simmons, Richard Farnsworth, Chuck Courtney, Loren Janes, Lila Finn, Shep Houghton, Scott Seaton, Herbert Lom, Cliff Lyons, Jerry Brown, Charles McGraw, Peter Brocco, Ronnie Rondell Jr., Gil Perkins, Dick Crockett, Louie Elias, Sol Gorss, Wally Rose, Seamon Glass, Aron Kincaid, Robert J. Wilke, Jack Williams, Nick Dennis, Tracy Olsen, Robert Fuller, Peter Ustinov, Kirk Douglas, Peter Virgo, Harvey Parry, Tony Curtis, Duke Fishman, Paul Baxley, Polly Burson, Harold J. Stone, Bill Catching, Carleton Young, John Barton, Chuck Hayward, Bob Morgan, Logan Field, John Benson, Paul Lambert, Charles Laughton, Eddie Parker, John Daheim, Wayne Heffley, John Ireland, Paul Kruger, Frederick Worlock, John Stephenson, Harry Harvey Jr., George Robotham, Jack Perkins, Regis Parton, James Griffith, Paul E. Burns, Kenner G. Kemp, John Hoyt, Larry Thor, Robert F. Hoy, Harold Goodwin, John Dall, Brad Harris, Hubie Kerns, Aaron Saxon, Jerry Summers, Shari Lee Bernath, Bill Blackburn, David Bond, Carol Daniels, Betty Harford, Charles Horvath, Pete Kellett, Joan McKellen, Frosty Royce, Autumn Russell, Kay Stewart, Kay Stewart, Helen Thurston, Louise Vincent, Valley Keene, Bill Raisch, Wayne Burson, Don Turner, Fred Zendar, Ted de Corsia, Terence de Marney, Johnny Duncan, Roy Engel, Paul Keast, Otto Malde, Jeanne Gerson, Preston Peterson, Jack Grinnage, Anthony Jochim, Joe Haworth, Vinton Hayworth, Jil Jarmyn, Dayton Lummis, Leonard Penn, Vic Perrin, Robert Stevenson
IMDB: Spartacus (1960)
Sponsored Links
Ratings
User Rating:
IMDB Rating:
7.9
Reviews
Variety

-

There is solid dramatic substance, purposeful and intriguingly contrasted character portrayals and, let's come right out with it, sheer pictorial poetry that is sweeping and savage, intimate and lusty, tender and bitter sweet.

Empire

-

Spartacus' merry rabble swarms across country to face a Roman army that, seen from a distance, resembles either a group of ants moving in perfect formation or living chessboard squares marching in order — an unbeatable, fascist machine. It's a breathtaking moment, which forces you to realise that Kubrick (before CGI) had to command extras as rigidly as Crassus runs Rome.

TV Guide Magazine

-

Spartacus is still a remarkable epic--one of the greatest tales of the ancient world ever to hit the screen. It's especially strong, and more typical of Kubrick, in the first half--before satire gives way to sentiment.

The Guardian

-

A stirring classic.

Entertainment Weekly

-

The one scene with a hint of the eccentrically detached brilliance that would come to define "Stanley Kubrick Movies" is the climactic battle, in which marching blocks of Roman soldiers are mowed down by fire: It's war as the greatest halftime show ever choregraphed. Until then, Spartacus envelops you in the sort of bedazzled hero worship Hollywood never quite managed to bring off this rousingly again.
Spartacus (1960)
The rebellious Thracian Spartacus, born and raised a slave, is sold to Gladiator trainer Batiatus. After weeks of being trained to kill for the arena, Spartacus turns on his owners and leads the other slaves in rebellion. As the rebels move from town to town, their numbers swell as escaped slaves join their ranks. Under the leadership of Spartacus, they make their way to southern Italy, where they will cross the sea and return to their homes.