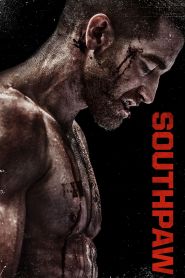 General Information
Glossary: S
Released Year: 2015
Runtime: 123 minutes
Genre: Action, Drama, Sport, Thriller
Directors: Antoine Fuqua
Writers: Kurt Sutter
Casts: Rachel McAdams, Jake Gyllenhaal, Joe Fishel, Adam Kroloff, Forest Whitaker, Naomie Harris, Jim Lampley, 50 Cent, Dominic Colón, Beau Knapp, Jimmy Lennon Jr., Charles Hoyes, Lana Young, Clare Foley, Patsy Meck, Rita Ora, Vito Grassi, Victor Ortiz, Skylan Brooks, Oona Laurence, Miguel Gomez, Jose Caraballo, Malcolm M. Mays, Aaron Quattrocchi, Danny Henriquez, Tony Weeks
IMDB: Southpaw (2015)
Sponsored Links
Ratings
User Rating:
IMDB Rating:
7.4
Reviews
Observer

-

What makes this one different is the dedication, commitment and sincerity the star brings to every aspect of the role. This is a pugilist with a heart.

TheWrap

-

Southpaw is so simultaneously entertaining and unsurprising that it could go straight to ESPN Classic, but if these are the extremes it takes for certain people to notice that, hey, that guy from "Bubble Boy" has turned into a heck of an actor, then so be it.

The Hollywood Reporter

-

Southpaw sticks to tried-and-tested genre rules, yet an edgy cast — led by formidable leading man Jake Gyllenhaal — keeps the story in sharp focus.

Total Film

-

The script keeps its gloves on but Gyllenhaal gives his all, notching up one of his very best performances.

Screen International

-

Jake Gyllenhaal brings likeability and commitment to a raw role, but despite a strong supporting cast director Antoine Fuqua never quite transcends the proceedings' gritty, melodramatic blandness. A lot of care, heart and craft have been thrown at awfully familiar material.
Southpaw (2015)
Billy "The Great" Hope, the reigning junior middleweight boxing champion, has an impressive career, a loving wife and daughter, and a lavish lifestyle. However, when tragedy strikes, Billy hits rock bottom, losing his family, his house and his manager. He soon finds an unlikely savior in Tick Willis, a former fighter who trains the city's toughest amateur boxers. With his future on the line, Hope fights to reclaim the trust of those he loves the most.