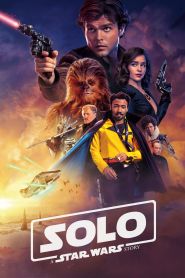 General Information
Glossary: S
Released Year: 2018
Runtime: 135 minutes
Genre: Action, Adventure, Fantasy, Sci-Fi
Directors: Ron Howard
Casts: Phoebe Waller-Bridge, Clint Howard, Woody Harrelson, Paul Bettany, Samuel Witwer, Andrew Woodall, Thandie Newton, Jon Favreau, Ray Park, Warwick Davis, Anthony Daniels, Kiran Shah, Miles Richardson, Richard Dixon, Andrew Jack, Donald Glover, Linda Hunt, John Tui, Alden Ehrenreich, Emilia Clarke, Jason Wong, Joonas Suotamo, Ian Kenny, Robert Morgan, Shaquille Ali-Yebuah, Anna Francolini, Sammy Hayman, Deepak Anand, Aaron Heffernan, Alice Hewkin, Erin Kellyman, Charlotte Louise, Dee Tails, Attila Vajda, Lily Newmark, Samantha Colley, Sema-Tawi Smart, Fraser Kelly, Dempsey Bovell, Eben Figueiredo, Damian Farrell, Hal Fowler, Harley Durst, Katy Kartwheel, Dave Chapman, Joseph Charles, Rona Morison, Peter Vo
IMDB: Solo: A Star Wars Story (2018)
Sponsored Links
Ratings
User Rating:
IMDB Rating:
7.0
Reviews
Consequence of Sound

-

Whether we follow Han Solo through hyperspace for more adventures is up to Disney, but what we got here is enough to keep us coming back again and again...That's the best kind of Star Wars movie.

The Verge

-

Solo is a swashbuckling success, a space adventure that pays homage to the DNA of the original films while carving out its own unique space in the canon. It's a sheer delight, but it also has the courage to explore the darker aspects of a character who could have all too easily been polished to an inoffensive, family-friendly Disney sheen.

The Guardian

-

Solo: A Star Wars Story is a crackingly enjoyable adventure which frankly deserves full episode status in the great franchise, not just one of these intermittent place-holding iterations

Chicago Tribune

-

Alden Ehrenreich resembles a young, somewhat graver Robert Wagner, though he's a better actor than the young Robert Wagner was. Ehrenreich's contained, methodical brand of swagger matches up pretty well with the Han Solo we know from the '77-'83 Harrison Ford edition.

Entertainment Weekly

-

Speaking of Glover, it's no spoiler to say that the Atlanta star is easily the best thing in this good-not-great movie.
Solo: A Star Wars Story (2018)
Through a series of daring escapades deep within a dark and dangerous criminal underworld, Han Solo meets his mighty future copilot Chewbacca and encounters the notorious gambler Lando Calrissian.