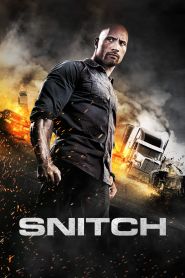 General Information
Glossary: S
Released Year: 2013
Runtime: 112 minutes
Genre: Drama, Thriller
Directors: Ric Roman Waugh
Casts: Barry Pepper, Jason Douglas, Michael Kenneth Williams, Dwayne Johnson, Tim J. Smith, Benjamin Blankenship, Susan Sarandon, Harold Perrineau, Jon Bernthal, Benjamin Bratt, Melina Kanakaredes, Nadine Velazquez, Kym Jackson, Rafi Gavron, J. D. Pardo, Richard Cabral, Kyara Campos, James Allen McCune, Ashlynn Ross, Spencer Miller, Jayson Floyd, Darnell Trotter
IMDB: Snitch (2013)
Sponsored Links
Ratings
User Rating:
IMDB Rating:
6.5
Reviews
Tampa Bay Times

-

Snitch is grittily streetwise, and until its last 20 minutes fairly credible compared to other movies "inspired by" true stories.

Chicago Tribune

-

It's an entertaining picture — pulp, coming from a place of righteous indignation.

The Hollywood Reporter

-

Unusual for this sort of thing, Snitch is a film after which you remember the characters and actors more than the big action moments.

The A.V. Club

-

Snitch toys with moral ambiguity and fatalism before losing its nerve and delivering the action-movie goods in a climax that hews closer to fantasy than the keenly observed realism of the film's solid center.

McClatchy-Tribune News Service

-

What gives it's juice is the supporting cast. John Bernthal ("The Walking Dead") is credibly wary as the ex-con John begs to get him in the door of the drug world. And the terrific Michael Kenneth Williams is the first dealer he meets, a guy who pulls a gun on him just to test him.
Snitch (2013)
Construction company owner John Matthews learns that his estranged son, Jason, has been arrested for drug trafficking. Facing an unjust prison sentence for a first time offender courtesy of mandatory minimum sentence laws, Jason has nothing to offer for leniency in good conscience. Desperately, John convinces the DEA and the opportunistic DA Joanne Keeghan to let him go undercover to help make arrests big enough to free his son in return. With the unwitting help of an ex-con employee, John enters the narcotics underworld where every move could be his last in an operation that will demand all his resources, wits and courage to survive.