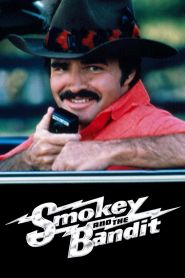 General Information
Glossary: S
Released Year: 1977
Runtime: 96 minutes
Genre: Action, Comedy
Directors: Hal Needham
Casts: Sally Field, Burt Reynolds, Paul Williams, Jerry Reed, Laura Lizer Sommers, Pat McCormick, Jackie Gleason, Mike Henry, Linda McClure, Susie Ewing, Michael Mann, Lamar Jackson, Ronnie Gay, Quinnon Sheffield
IMDB: Smokey and the Bandit (1977)
Sponsored Links
Ratings
User Rating:
IMDB Rating:
6.9
Reviews
Washington Post

-

Smokey and the Bandit is an unexpected good time, a playful, wisecracking and curiously revealing example of All-American escapist entertainment. [29 July 1977, p.B1]

Time Out London

-

The direction, by a former stuntman, concentrates on the action and happily leaves everyone to their own devices, with almost nothing to do. Field shows what natural acting is all about, and Reynolds' send-ups of himself are, despite repetition, becoming more likeable. Here his kidding around is exactly in tune with this fast-moving but essentially lazy vehicle.

The New York Times

-

With Mr. Reynolds playing it cool and Mr. Gleason doing his burns and investing the film with a certain raunchy humor, the rest is up to the vehicles. And they don't do anything that hasn't been seen before.

Variety

-

There is a parade of roadside set pieces involving may different ways to crash cars. Overlaid is citizens band radio jabber (hence, the title) which is loaded with downhome gags. Field is the hottest element in the film.

The Hollywood Reporter

-

While the joke wears thin very quickly, there are a number of amusing sequences, which are combined with some exciting road action to provide a mildly entertaining — and totally mindless — film.
Smokey and the Bandit (1977)
A race car driver tries to transport an illegal beer shipment from Texas to Atlanta in under 28 hours, picking up a reluctant bride-to-be on the way.