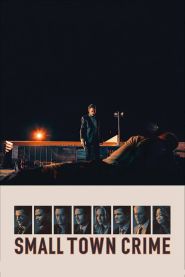 General Information
Glossary: S
Released Year: 2018
Runtime: 91 minutes
Genre: Crime, Mystery, Thriller
Directors: Eshom Nelms, Ian Nelms
Writers: Eshom Nelms, Ian Nelms
Casts: John Hawkes, Katie Cockrell, Robert Forster, Dale Dickey, Stefanie Scott, Anthony Anderson, Clifton Collins Jr., Daniel Sunjata, Michael Vartan, Octavia Spencer, Don Harvey, Adam Johnson, Jeremy Ratchford, Michael Flynn, Caity Lotz, James Lafferty, Robyn Lively, Sean Carrigan, Bart Johnson, Stefania Barr, Yolanda Wood, Michelle Misty Lang, Victor Medina, Tom Fugedi, Jemuel Morris
IMDB: Small Town Crime (2017) - IMDB
Sponsored Links
Ratings
User Rating:
IMDB Rating:
6.6
Reviews
Consequence of Sound

-

The film's success rides on the shoulders of Hawkes, and for the most part, it works.

Variety

-

Written and directed by sibling filmmakers Ian and Eshom Nelms with equal measures of respect and skepticism for pulp conventions, the movie comes across as neither pastiche nor parody, but rather as a seriously down-and-dirty crime story with a savage sense of humor.

Austin Chronicle

-

Small Town Crime is so engrossing in its optimistic darkness that it screams for the further pulpy adventures of Mike Kendall. Hawkes imbues him with the beat-down appeal of a Sam Spade or a Jim Rockford.

The A.V. Club

-

An amiable crime dramedy from a more under-the-radar pair of filmmaking brothers, Ian and Eshom Nelms.

San Francisco Chronicle

-

Buoyed by an appealing lead performance by John Hawkes, Small Town Crime is a smart, sharply written detective story that, though not without humor, plays it straight and tough.
Small Town Crime (2017)
Mike Kendall, a disgraced ex-cop, is fighting a losing battle with the bottle. When he finds a woman left for dead at the side of a road, Kendall turns private eye to track down her killers, taking one last shot at redemption.