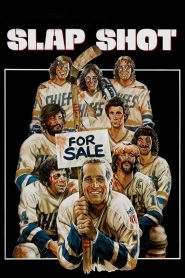 General Information
Glossary: S
Released Year: 1977
Runtime: 123 minutes
Genre: Comedy, Drama, Sport
Directors: George Roy Hill
Writers: Nancy Dowd
Casts: Michael Ontkean, Melinda Dillon, Paul Newman, M. Emmet Walsh, Strother Martin, Swoosie Kurtz, Stephen Mendillo, Lindsay Crouse, Matthew Cowles, Jerry Houser, Brad Sullivan, Allan F. Nicholls, Jennifer Warren, Jeff Carlson, Steve Carlson, David Hanson, Yvon Barrette, Yvan Ponton, Kathryn Walker
IMDB: Slap Shot (1977)
Sponsored Links
Ratings
User Rating:
IMDB Rating:
7.4
Reviews
Rolling Stone

-

Rowdy, raunchy, hilarious, absurd, deeply depressing and profoundly human – often all at the same time – Slap Shot is refreshingly devoid of phony uplift or showy monologues. There's no jerking of tears or pulling of heartstrings, no big lessons to be learned beyond the harsh reminder that sports is a business; the passion of its fans and the heroics of its players are ultimately less important than the clang of the cash register. It's the rare combination of both team-spirit uplift and period-appropriate downer.

The New York Times

-

The performances—which have a lot to do with the right casting, particularly in the smaller roles—are impeccable. Paul Newman maintains an easy balance between star and character-actor. The leading-man authority is there, but it's given comic perspective by the intensity of the character and by its tackiness, evident even in the clothes he wears.

TV Guide Magazine

-

The on-ice violence is hyperreal, the emotions believable, and the laughs plentiful in this slightly off-the-wall comedy.

Newsweek

-

It had to happen. The most foulmouthed movie of all time has been written by a woman. Nancy Dowd's original screen-play for SLAP SHOT is a landmark. Like female jockeys, lesbian ministers and distaff sportscasters, this sharp-eared, engagingly impudent young writer has struck a blow for equal rights, a field that stretches from realms of the spirit to jock itch. The first in a coming avalanche of sports-oriented movies, this strenuously irreverent film about a minor-league hockey team in Middle America will set tongues wagging over every sports buff's beer glass, every culture-vulture's wine goblet, every pundit's brandy snifter. [7 Mar 1977, p.68]

Variety

-

Like the character played by Paul Newman in Slap Shot, director George Roy Hill is ambivalent on the subject of violence in professional ice hockey. Half the time Hill invites the audience to get off on the mayhem, the other half of the time he decries it.
Slap Shot (1977)
To build up attendance at their games, the management of a struggling minor-league hockey team signs up the Hanson Brothers, three hard-charging players whose job is to demolish the opposition.