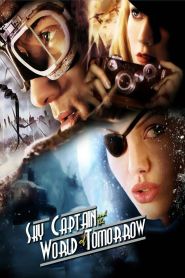 General Information
Glossary: S
Released Year: 2004
Runtime: 107 minutes
Genre: Action, Adventure, Mystery, Sci-Fi, Thriller
Directors: Kerry Conran
Writers: Kerry Conran
Casts: Giovanni Ribisi, Gwyneth Paltrow, Jude Law, Angelina Jolie, Omid Djalili, Bai Ling, Michael Gambon, Laurence Olivier, Trevor Baxter, Peter Law, Khan Bonfils
IMDB: Sky Captain and the World of Tomorrow (2004)
Sponsored Links
Ratings
User Rating:
IMDB Rating:
6.1
Reviews
Entertainment Weekly

-

Sky Captain is a gorgeous, funny, and welcome novelty.

The A.V. Club

-

As an imaginative visual experience, there's nothing like it. Today, at least.

Premiere

-

Conran's Sky Captain and the World of Tomorrow is a pastiche of everything from "King Kong" to "The Wizard of Oz," a movie that escalates to a breathless cliff-hanger every 20 minutes or so and reinvents itself with every reel.

Philadelphia Inquirer

-

The film's save-the-world scenario may be the stuff of crusty cliff-hangers, its imagery may be borrowed, and its jaunty dialogue anything but deep, but there's something exhilarating going on here. It's darn sublime.

The Hollywood Reporter

-

Other than the actors, their costumes, and a few props, everything in Sky Captain and the World of Tomorrow is digital illusion, and the effects are often exhilarating.
Sky Captain and the World of Tomorrow (2004)
When gigantic robots attack New York City, "Sky Captain" uses his private air force to fight them off. His ex-girlfriend, reporter Polly Perkins, has been investigating the recent disappearance of prominent scientists. Suspecting a link between the global robot attacks and missing men, Sky Captain and Polly decide to work together. They fly to the Himalayas in pursuit of the mysterious Dr. Totenkopf, the mastermind behind the robots.