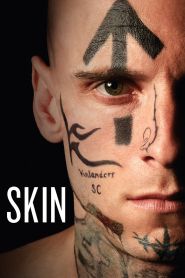 General Information
Glossary: S
Released Year: 2019
Runtime: 110 minutes
Genre: Drama
Directors: Guy Nattiv
Writers: Guy Nattiv
Casts: Jamie Bell, Mike Colter, Vera Farmiga, Mary Stuart Masterson, Louisa Krause, Jaime Ray Newman, Bill Camp, Danielle Macdonald, Daniel Henshall, Zoe Colletti, Russell Posner, Kylie Rogers, Colbi Gannett, Jenna Leigh Green, Seán Cullen
IMDB: Skin (2018)
Sponsored Links
Ratings
User Rating:
IMDB Rating:
7.1
Reviews
The Film Stage

-

A just world would place [Bell] in the awards conversation, but ours will probably not give Skin the platform necessary for that to happen.

Movie Nation

-

It is Bell who makes the movie, belligerent, coiled fury from the tip of his bald head to the toes he bounces on as he stomps into the frame, threatening one and all, righteous in his racist wrath.

Variety

-

Less dynamic than "American History X," and less lurid than some treatments of similarly themed stories, "Skin" is a compelling character study whose narrative momentum flags somewhat around the three-quarter point. Still, it never loses interest.

Rolling Stone

-

There are times when Skin can seem naïve and manipulative, almost in the same breath, which takes the film perhaps too long to get its bearings. But Bell is the binding force that locks us into Widner's tumultuous journey.

Slant Magazine

-

After a while, the film's not-strictly-linear structure and handheld camerawork come to feel like self-conscious signs of "gritty" realism, attempts at masking a certain conventionality.
Skin (2018)
A destitute young man, raised by racist skinheads and notorious among white supremacists, turns his back on hatred and violence to transform his life, with the help of a black activist and the woman he loves.