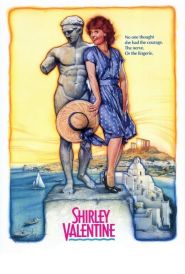 General Information
Glossary: S
Released Year: 1989
Runtime: 108 minutes
Genre: Comedy, Drama, Romance
Directors: Lewis Gilbert
Casts: Bernard Hill, Joanna Lumley, Pauline Collins, George Costigan, Catherine Duncan, Anna Keaveney, Sylvia Syms, Tom Conti, Marc Zuber, Ken Sharrock, Alison Steadman, Julia McKenzie, Tracie Bennett, Karen Craig, Gareth Jefferson, Gillian Kearney, Cardew Robinson, Honora Burke, Deborah Yhip, John Hartley, Marlene Morley, Annee Blott, Matthew Long, Ruth Russell, Sarah Nolan, Diane Whitley, Joanne Zorian, Geraldine Griffiths, Elaine Boisseau, Giorgos Xidakis, Sheila Aza, Ray Armstrong
IMDB: Shirley Valentine (1989)
Sponsored Links
Ratings
User Rating:
IMDB Rating:
7.2
Reviews
Washington Post

-

A delightful, forgivably stagy adaptation of Willy Russell's one-woman play, it delivers a domestic engineer from drudgery and into the arms of an aging Greek stud.

Time Out

-

But the virtue of Russell's writing is that, for all the cracks, occasional duff lines, and tendency to simplify and stereotype, few can match his ability to make us laugh, cry and ultimately care.

Chicago Reader

-

A delightful script and an equally delightful performance by Collins.

Washington Post

-

An uncommonly warm, relaxed little movie, the kind they call a "feel-good film," but without a cloying artificially-sweetened aftertaste.

TV Guide Magazine

-

While some may object to the storytelling techniques employed by playwright and screenwriter Willy Russell to depict his title character, others will find themselves enchanted by Shirley Valentine.
Shirley Valentine (1989)
Wondering what has happened to herself, now feeling stagnant and in a rut, Shirley Valentine finds herself regularly talking to the wall while preparing her husband's chips and egg. When her best friend wins a trip-for-two to Greece Shirley begins to see the world, and herself, in a different light.