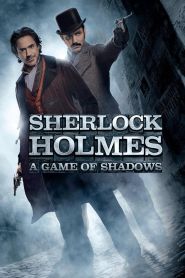 General Information
Glossary: S
Released Year: 2011
Runtime: 129 minutes
Genre: Action, Adventure, Crime, Mystery, Thriller
Directors: Guy Ritchie
Casts: Jude Law, Rachel McAdams, Robert Downey Jr., Jared Harris, Noomi Rapace, Eddie Marsan, Paul Anderson, Affif Ben Badra, Thorston Manderlay, Laurentiu Possa, Kelly Reilly, Geraldine James, Stephen Fry, William Houston, Wolf Kahler, Iain Mitchell, Jack Laskey, Patricia Slater, Karima McAdams, Richard Cunningham, Marcus Shakesheff, Mark Sheals, George Taylor, Thierry Neuvic, Carsten Hayes, Clive Russell, Michael Webber, Mike Grady, Daniel Naprous, Lancelot Weaver, Vladimir Furdik, Alexander Devrient, Fatima Adoum, Stanley Kaye, Martin Nelson, Mark Evans, Anthony Inglis, Ian Wilson-Pope, Pamela Hay, Laurence Dobiesz, Peter Stark, Roman Jankovic, Fredrick Ruth, Jonathan Christie, James McNeill, Maitland Chandler, Joe Egan, Lasco Atkins, D.J. Bailey, Paul Bateman, Chris Capaldi, Kenneth Coombs, Gioacchino Jim Cuffaro, Lukas DiSparrow, Ray Donn, Ross Egan, Rich Goble, Shonn Gregory, Marina Hayter, Jefferson King, Jeffrey Lipman Snr, Steve Munroe, Kerry Rousell, Mark Sealey, Danny Seldon, Alain Stash, Tom Swacha, Charles Walters, Paul Warren, Christian Wolf-La'Moy
IMDB: Sherlock Holmes A Game of Shadows (2011)
Sponsored Links
Ratings
User Rating:
IMDB Rating:
7.5
Reviews
Tampa Bay Times

-

Ritchie stages plenty of gunfights and beatdowns to satisfy action fans, pausing to consider the beauty of violence before resuming speed and piling on more.

Empire

-

A sequel confident in what it's about - bigger, better, funnier, without stretching the joke.

ReelViews

-

A Game of Shadows is a stronger, better realized movie that builds upon the strengths of the original and jettisons some of the weaknesses.

Variety

-

While director Guy Ritchie's excesses and modern concessions -- among them a lot of explosions -- remain intact, the parts of this second "Sherlock Holmes" are considerably more rewarding.

The Hollywood Reporter

-

After quite a few tedious detours and distractions, when the film finally gets down to the business of a climax at a gathering of elite European diplomats in a precariously perched Swiss mountain castle, it becomes not half-bad.
Sherlock Holmes A Game of Shadows (2011)
There is a new criminal mastermind at large (Professor Moriarty) and not only is he Holmes' intellectual equal, but his capacity for evil and lack of conscience may give him an advantage over the detective.